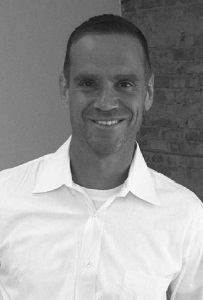 Photo by: Jennifer Leninger
INDIVIDUAL | Inducted 2011
Robert Garofalo, M.D., M.P.H., is the director of Children's Memorial Hospital's Center for Gender, Sexuality and HIV Prevention. He is an associate professor in pediatrics and preventive medicine at Northwestern University's Feinberg School of Medicine and an attending physician at Children's Memorial Hospital, where he also directs the Adolescent/Young Adult HIV Program.
Before moving to Chicago in 2001, Garofalo helped to establish one of the nation's first specialized clinics for marginalized youth populations. In Chicago, he created an innovative partnership between Children's Memorial and Howard Brown Health Center designed to provide better access to health care for LGBT youth. At Howard Brown, as a part-time physician and ultimately as the agency's director of youth services and deputy director, he led the development of a comprehensive program caring for HIV-positive and at-risk LGBT youth across the Chicago area.
In 2004, Garofalo envisioned and spearheaded development of the Broadway Youth Center. As a collaborative model among several agencies serving at-risk youth, it became the first Chicago-based comprehensive center of its kind and has received accolades for its innovative approach to overcoming barriers and serving youth who often fall through the cracks of traditional health-care systems.
He has been lead and co-investigator on several National Institutes of Health and Centers for Disease Control grants. Each project was designed to provide youth with novel strategies not only for improving their health or for helping to prevent HIV but also for gaining access to cutting-edge LGBT research. Garofalo has published extensively on LGBT health, including the first population-based studies examining health-risk behaviors of LGBT youth. He has written more than 20 peer-reviewed articles on LGBT youth suicide risk and HIV prevention, has contributed numerous book chapters on LGBT health, and is a frequent speaker at local and national conferences on the subject.
Garofalo is the only Chicagoan to serve as president of the Gay and Lesbian Medical Association. In 2010, he served on the National Academy of Sciences' Institute of Medicine's Committee on Lesbian, Gay, Bisexual and Transgender Health Issues and Research Gaps and Opportunities.
Garofalo has devoted his professional and academic career to promoting the health and well-being of LGBT youth, youth affected by HIV/AIDS, and transgender youth. He is a national authority on LGBT health issues, adolescent sexuality, and HIV clinical care and prevention. His contributions are seen in his commitment to program development and clinical care; to academic research, including development of novel HIV/AIDS prevention strategies for youth; and to advocacy work at local and national levels. (Note: information listed has not been updated since the member's induction).