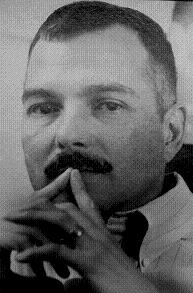 INDIVIDUAL | Inducted 1999
Since moving to Chicago in 1986, Rick Garcia has continued as a high-profile activist and helped to lead the final stage of a 15 year struggle to pass a 1988 ordinance against sexual-orientation discrimination. He was the founding executive director of Equality Illinois. In Roman Catholic circles, he also has worked extensively in behalf of the church's lesbian, gay, bisexual and transgender adherents. In the process, he has forged alliances with such organizations as Operation PUSH and with both Republicans and Democrats while persistently seeking passage of local, state, and national laws to prohibit discrimination because of sexual orientation.
In the late 1980s, Garcia was one of the "Gang of Four," a group of activists who took the helm of the final, successful stage of a 15-year struggle to pass a Chicago ordinance against sexual-orientation discrimination. The ordinance was enacted in 1988. Later, Garcia and his colleagues turned their attention to a campaign for securing similar protection at the county level. In 1993, after they and other activists had helped to shape and lobby for it, the Cook County Human Rights Ordinance was enacted.
Garcia also was a principal founder of the Illinois Federation for Human Rights, which has now become the city's and the state's chief organizational voice for sexual-minority rights. He has served as the group's executive director and in that capacity has helped to develop local lobbying units throughout Illinois, has met with legislators, and made countless appearances in mass communications media to advocate for passage of a state law against sexual-orientation discrimination.
In cooperation with the National Gay and Lesbian Task Force, Garcia has also been one of the founders of the national Federation of Statewide Lesbian, Gay, Bisexual and Transgender Political Organizations.
Before leaving his hometown of St. Louis, Garcia was organizing pioneer local gay rights efforts there while still a teenager in the 1970s.
Garcia was involved with Maryland's New Ways Ministries, whose founders were required by church officials to cease their longtime gay and lesbian ministerial work. In 13 years as a Chicagoan, Garcia has helped local sexual-minority rights organizing to reach new levels of visibility and credibility. (Please note: this information has not been updated since the time of the member's induction).