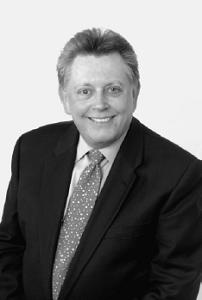 INDIVIDUAL | Inducted 2007 [Now Deceased]
Martin Gapshis, a Chicago native, served both the city and its LGBT community throughout most of his adult life, demonstrating a quiet commitment to improving the lives of others. As the president of Progress Printing Corporation for many years, he showed extraordinary generosity with his time and his company's resources, making in-kind donations to virtually every not-for-profit organization in the city, particularly benefiting those in the LGBT community. He cared deeply about fair and honest governance of organizations, the enrichment of programming, attention to board representation, and many other issues, which made him an effective leader in numerous organizations.
Gapshis served as a capital campaign leadership co-chair for Center on Halsted, Chicago's LGBT community center, helping to raise $20 million for construction of the largest center of its kind in the United States today. He also served on the board of the AIDS Foundation of Chicago; the emeritus board of Cinema/Chicago, parent organization of the annual Chicago International Film Festival; and on the costume council of the Chicago History Museum.
He has also provided important help to Chicago garden show activities and to the city's landscape and rooftop gardens initiatives, aiding Chicago to become a "green city." For eight years, Gapshis co-chaired an annual Celebration of Home and Garden tour in Michiana (the Michigan-Indiana border region), benefiting Chicago's Lakefront Supportive Housing organization (now known as Mercy Housing Lakefront), and in 2003 he was given a community leadership award by the organization.
On February 10, 1995, Mayor Richard M. Daley declared "Martin Gapshis Day" in Chicago, in honor of Gapshis's having received the "Biggest Heart in Chicago" Award from the Hearts Foundation, an AIDS fundraising organization. In 2004, Gapshis received the NAMES Project's Hopeful Spirit Award, which acknowledged his steadfast dedication to the AIDS Memorial Quilt and to the eradication of HIV/AIDS.
In his very understated way, Martin Gapshis has always worked hard to make a difference, demonstrating his belief in the basic human rights that must be secured for all—housing, health care, personal safety, and the opportunity to succeed. He was a leader and role model for LGBT community, not only for all his contributions and accomplishments, but for his ever-present humility and the depth of his kind and generous spirit. Martin Gapshis died August 30, 2010.