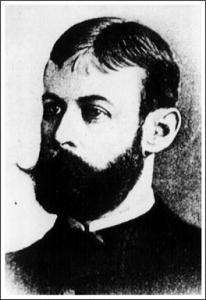 INDIVIDUAL | Inducted 2000 [Posthumous]
Henry Blake Fuller was born in 1857. He was an author, poet, critic, and composer. He wrote novels and short story collections that were set in Chicago. His 1896 play "At Saint Judas's" was effectively the first play on a homosexual theme published in America. In 1919, he courageously published a philosophic novel centered on homosexual characters 'Bertram Cope's Year'. He died in 1929. He has been praised by three generations of literary critics, is the subject of four biographies, and is referred to in every significant work on Chicago history. Yet, to the public, he is a virtual unknown.
His importance to Chicago is his contribution to its unique literary heritage through novels and short-story collections set in the city; "The Cliff-Dwellers" (1893), "With the Procession" (1895), "Under the Skylights" (1901), and "On the Stairs" (1918).
In addition, at age 62, he courageously published a philosophic novel centered on homosexual characters, Bertram Cope's Year (1919). While described by later critics as "Fuller's best work" and as "filled with dynamite, scrupulously packed," it was ill received or ignored in his lifetime. His disillusionment over its reception drove Fuller to destroy the manuscript and kept him from writing another novel for 10 years. In fact, though critically well regarded, his books never sold well.
Fuller, a third-generation Chicagoan was born in a house on the present site of LaSalle Street Station, was descended from a Mayflower Pilgrim and was the last male in his direct line. His grandfather was a successful merchant, and his father organized the city's first trolley car system. He had a love-hate relationship with Chicago and its crass commercialism, stockyards, and dirt-spewing industries. He was prescient in his vision of a city with "rushing streams of commerce" channeled into man-made cliffs towering along the lakefront, leaving a ravaged prairie behind.
Fuller was also an outspoken critic of America's imperialistic tendencies and racism. Unlike other writers of the Chicago Renaissance who left town after making a name for themselves, Fuller stayed and, in the words of one biographer, "tried to break the chains which enslaved Chicago to New York, America to Europe and the present to the past."
In a burst of energy during the last eight months of his life, Fuller wrote two books that were published posthumously. He died in 1929. Afterward, the playwright and drama teacher Anna Morgan compiled a book of tributes to him from 75 persons, many of them now prominent in Chicago history or the arts, such as Thornton Wilder, Carl Van Vechten, Jane Addams, and Arthur Meeker.