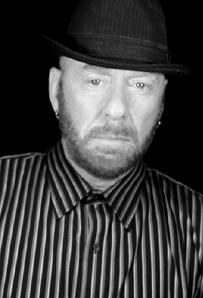 INDIVIDUAL | Inducted 2010
Chicago native Scott Free has been actively involved with the city's LGBT community for more than 20 years. Though he is best-known as a musician, his involvements reach across production, musicianship, photography, and activism in a broad and impressive range of venues and commitments.
As one of the leading openly gay male artists in the United States, he continues to rack up awards and honors, including 2009 OUTMusician of the Year at the OUTMusic Awards. His "Happy Again" video was among the Top 10 Videos of 2009 on Logo's "Click List".
Free's sometimes-funny, sometimes-angry, always-touching songs of queer life have earned him acclaim nationally and worldwide. He was twice recognized as OUTMusician of the Year by the OUTMusic Awards, and his many CDs have earned glowing reviews in The Advocate, Out magazine, and numerous other LGBT publications.
In the 1990s, Free performed as Plaster of Paris in the art/drag show "Tuck" at Foxy's nightclub on North Halsted Street. In 1996 he debuted his hardcore punk songs, and the following year he was a featured artist in the "Feast of Fools" cabaret.
In the autumn of 2000, he founded Grinder at the Willow Café in Chicago's Edgewater neighborhood, which evolved three years later into Homolatte. This twice-a-month series, now held at Big Chicks and Tweet, is the longest-running queer performance series in the United States. It has recently expanded to include shows in St. Louis, Missouri.
Also in the autumn of 2000, Free began producing "Queer Is Folk" for Chicago's Old Town School of Folk Music, an annual LGBT music festival that has been known since 2006 as Alt Q. Proceeds from the event have been donated to a wide range of LGBT organizations, from Howard Brown Health Center and AIDS Foundation of Chicago to the Gerber/Hart Library, Illinois Gender Advocates, Equality Illinois, Black LGBT & Allies for Equality, and Haitian LGBT organizations.
For years, Free has provided sound equipment for the OUTMusic Open Mic and TOUTMic, the trans-run, all-inclusive open-mic series at Center on Halsted. He has performed in many Chicago venues and at festivals across the continent, from Northalsted Market Days to Camp Trans to Bearapalooza to Toronto's Pride Week festival.
Free is a member of Chicago's Gay Liberation Network and led protests of performances by Jamaican musicians and the Chicago area's Evil Incarnate band, whose lyrics advocated anti-gay and -lesbian violence. For several years he has served as opening performer for GLN's annual Matthew Shepard March. He is also a member of Black and White Men Together/Men of All Colors Together and in 1993 served as director of arts programming for that organization's national convention in Chicago. (Note: information listed has not been updated since the member's induction).