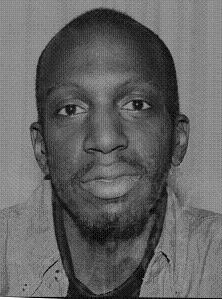 INDIVIDUAL | Inducted 1993 [Now Deceased]
Born and reared in Chicago, where lived all of his life, Robert T. Ford earned his Bachelor of Arts in Arts Management from Columbia College, with course work in film, video, writing, marketing, and graphic design. Ford completed additional courses at the San Francisco Art Institute and Antioch College. He pioneered outreach of the gay cultural experience into the African American community through publication o the 'zine Thing and as a writer for numerous publications. He died in 1994.
He was a buyer and store manager for Rose Records, before being named the company's Creative Director. Ford's freelance writing has been published in Jam Sessions, Chicago Music Magazine, and Jazzgram. He has been a music columnist for Planet Roc, a Chicago arts publication, and a contributor to Babble, a weekly chronicle of "Chicago homo haunts n' hap'nin's."
Ford saw himself more as a "documentarian" than as a leader in the gay and African-American communities. He believed that being a leader meant actively approaching a defined goal. Being a documentarian meant not being able to promise what may happen to those who might follow him, "but anyone is welcome to come along for the ride."
Between 1989 and 1993, Ford — as the publisher of THING — introduced to Chicago a unique forum for Black and gay peoples to celebrate and document our voices, lives, loves, aesthetics, culture and humor: the 'zine. THING, bearing the sobriquet "She Knows Who She Is," was produced on a quarterly basis and afforded many young writers an opportunity to present their views and ideas to a wide audience that included their "queer peers," as well as more conservative elements of the diverse gay and lesbian community, both locally and nationally.
Before THING, Ford, along with the same collective that formed that publication, published THINK, Inc., a Black arts journal that was conceived as being gay-friendly, but not specifically gay. The thought was that it would be accepted in the African-American community, encouraging its members to challenge whatever initial reactions straight readers might have to the gay content. In retrospect, Ford found this to be a roundabout approach towards accomplishing visibility, "a kind of visibility by assimilation rather than visibility by visibility." By consciously having a gay presence that was as strong as its Black focus, THING became better defined and focused.
The transition followed Ford's own thinking: by broadening the 'zine's focus and trying to include all of the elements that make up both gay and Black consciousness — neither of which is entirely separate from the other — both became a part of the larger "thing" in which we exist. Ford believed that any publication that presents under-represented points of view shakes the status quo and shows that other points of reference are available. He maintained that it is important that media always educate the public about the issues and illuminate the world around us, even as it entertains. THING accomplished this.
Robert T. Ford has selflessly used and continues to use his own resources in his work, and he has become a role model for a new generation. His accessibility, encouragement, advice, and support have made him a hero to young Black gays and lesbians.