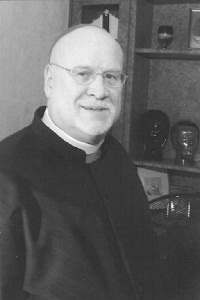 INDIVIDUAL | Inducted 2011 (now deceased)
Grant Lynn Ford He was founding publisher of GayLife in 1975, which was distributed in several Midwestern cities. For several years GayLife also operated a telephone news line for late-breaking news and developing events. and ran for election as 44th Ward alderman in 1978. He was also a former Assemblies of God minister and a dynamic Metropolitan Community Churches pastor in the Chicago area, Florida and Texas.
Through GayLife, Ford was a founding member of the Gay and Lesbian Coalition of Metropolitan Chicago and of the Metropolitan Business Association. He was also a member of such organizations as Integrity/Chicago (an Episcopal LGBT group), Mattachine Midwest, and Together, an organization representing all alternative lifestyles.
In the late 1970s, Ford, along with community leader Chuck Renslow, sponsored Orange Balls I and II, which were Chicago benefits to raise funds to combat the Anita Bryant–backed anti-gay referendum in Dade County, Florida. Many community groups joined in a large demonstration during the singer's appearance at Chicago's Medinah Temple.
In 1978, Ford took a leave of absence from GayLife to run for 44th Ward alderman as an independent Democrat. He was one of the candidates endorsed by the Independent Voters of Illinois. When asked, "As a gay candidate, what will be your main concerns for Chicago?" he responded, "Garbage pickup, snow removal, and street repair. I'm running for City Council, just like everyone else." Gay rights were indeed an issue, but Ford made it clear he was not a one-issue candidate. Unfortunately, because of financial problems that arose during his absence from GayLife, Ford was forced to withdraw from the race weeks before the election in order to deal with them, after which Renslow bailed out the newspaper and assumed ownership.
A year later, Ford became pastor of Holy Covenant Metropolitan Community Church in Hinsdale, where he served until 1986. From 1981 to 1986, he was abbot of the Poor Servants of Jesus, described as an ecumenical servite order. He served in consulting or supervising roles with MCC churches in Chicago and Evanston and was founding pastor of Church of the Resurrection MCC in Chicago's Hyde Park neighborhood. During that time, he was also interim pastor of St. Paul's Lutheran Church in the Wicker Park neighborhood. In 1986, Ford became pastor of Florida's MCC Fort Lauderdale, which became Sunshine Cathedral and went on to become the MCC denomination's largest congregation. He ultimately served as dean of the cathedral until 2010. Rev. Ford passed away March 16, 2019.