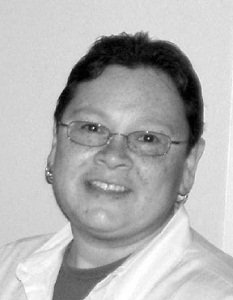 INDIVIDUAL | Inducted 2011 [Posthumous]
Antonia "Tata" Flores (1958-2008) was a great asset to the visibility and pride of Chicago's LGBT community. Flores was born in 1958 and raised in Chicago's Wicker Park neighborhood. She worked for the Chicago Transit Authority as a bus driver for 20 years before retiring because of illness.
In 1987, Flores and two friends rode their Harley-Davidson motorcycles in Chicago's Pride Parade. Flores came that day to ride because she deeply enjoyed participating in the event, which brought all segments of LGBT communities together. That day, the crowd labeled the three as Dykes on Bikes, and the name stuck.
As the years passed, the group became a Pride Parade tradition, and the number of Dykes on Bikes expanded. What was originally only a handful soon became 25 or 30. Flores always told the riders, "Just bring your bike, and I'll take care of the fees and paperwork." After every parade, Flores would invite all the women to a club and provide the food, or else invite them to her house for a cookout and pool party.
Always concerned about the lack of nightclubs and other places for lesbians to socialize, Flores took part in establishing several bars, such as Condo Club in 1997 and Faces in 1999, and she was always there to greet patrons at the door.
Diagnosed with breast cancer in 2002, Flores was saddened in June 2007 by the thought that, because of chemotherapy, her body would be too weak for her to take part in the parade. For three days before the parade, she rested as much as possible. On the morning of June 24, she asked her brother to follow her in a car while she rode his motorcycle. Thirty minutes before the parade began, Flores arrived to join the group with her partner of 24 years, Blanca "Ma" Ortiz, as her passenger. With a glowing smile, Flores took the lead in the lineup and said, "This will be my last parade." All the riders wore pink bandannas and dedicated the ride to her.
Flores was always passionate about unity in the LGBT communities and about coming together to celebrate diversity. She attended countless fundraisers and events because she believed participation was important.
Flores died at age 50 in February 2008. In the Pride Parade the next June, Dykes on Bikes reached a total of 50 bikers, the largest ever. Flores leaves a strong legacy behind. Dykes on Bikes will continue to ride in her memory.