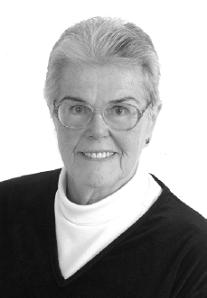 FRIEND OF THE COMMUNITY | Inducted 2005 [Now Deceased]
As long ago as 1979, Merry Mary was one of a group of volunteers from Howard Brown Memorial Clinic who gathered on Tuesday nights at the Touché bar's old location on Lincoln Avenue after their volunteer time at the clinic. In a day when men and women did not mix in Chicago gay bars, Merry Mary was an exception. Perhaps because so many of the customers had seen or spoken with her at the clinic, no one commented on the woman in "their" bar. Perhaps it was because of Merry Mary herself, regarded as a genuinely caring and nonjudgmental person. She was selected among the first group of "Friends for Life" by the clinic in 1987 and was honored for her 25 years of volunteering in February 2005.
When AIDS struck the gay community, Merry Mary stood by it, offering love and compassion to several gay men who died quickly in the epidemic's early days. She personally made three panels honoring lost friends for the AIDS Memorial Quilt and then volunteered to help with the Quilt's first Chicago display at Navy Pier.
Besides her Tuesday nights at Howard Brown, Merry Mary has also volunteered to help all three community choruses: the Chicago Gay Men's Chorus for 23 years, the Windy City Gay Chorus for 25 years, and Unison for the past six years. Merry Mary was an early member of Dignity/Chicago and is now a member of Archdiocesan Gay and Lesbian Outreach (AGLO Chicago). As a member of Chi-Town Squares for the past 15 years, she assists in staffing the check-in table at the club's square-dancing classes. For the past three years, Merry Mary has taken on the added task of helping Vital Bridges' GroceryLand program by collecting plastic bags from friends, neighbors, and area businesses.
She is a lifelong Chicago resident. She grew up, was married, and reared three daughters and one son in the Lakeview neighborhood. Along with her many commitments to LGBT organizations, she still finds energy to work part-time and bake delicious fruitcakes.
She is known to hundreds of people as Merry Mary because she is just that. Always with a smile and warmth for everyone she meets, her friendliness is unsurpassed. Her willingness to lend time to others is without measure. If there has been a rally, walk, or march, her face was probably seen there, either in the midst of the action or, more likely, on the sidelines helping to make it happen.
Merry Mary died Dec. 30, 2012 after a short battle with cancer, she was 77 years old.