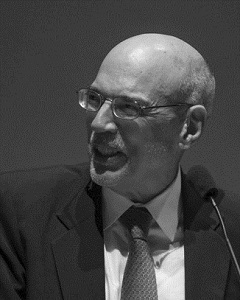 INDIVIDUAL | Inducted 2015
Fred Eychaner is chairman of Newsweb Corporation and President of Alphawood Foundation. In 2014, he was included in Chicago magazine's list of the 100 most influential Chicagoans; he is known for his philanthropy in the city, especially his support of LGBT organizations, HIV support organizations, arts institutions, public spaces, and historic preservation.
Eychaner was born in DeKalb, Illinois, in 1944. He attended the Medill School of Journalism and founded Newsweb Corporation, which prints a variety of newspapers, in 1971. A series of negotiations subsequently led to his acquisition of WPWR–Channel 50, which he sold in 2002. In 2005, he launched WCPT-AM, Chicago's progressive talk radio station.
Throughout several political cycles, Eychaner has been a top Democratic donor; in the 2012 election cycle he was the top contributor to Democratic Super PACs. Many of his political donations have been made in support of LGBT rights, in particular the drive for marriage equality in Illinois. A great deal of the LGBT infrastructure in Chicago bears his stamp; he is the largest donor to the AIDS Foundation of Chicago and has been instrumental in the creation and ongoing viability of a number of the most influential LGBT rights organizations in the state.
In 2014, Eychaner received the Lambda Legal National Liberty Award, which represented the first time that this prestigious honor has recognized an individual outside of New York or Los Angeles. In his acceptance speech, he looked back on more than forty years of LGBT progress, from those who resisted the police at Stonewall, to members of ACT UP fighting for their lives against HIV and AIDS, to the lesbians who gave blood when gay men could not, to the hatred spawned by Reagan-era Republicans, to Irwin Keller and Jonathan Katz of Gay and Lesbian Town Meeting fighting for rights in Chicago in the 1980s, up to the recent struggle to win marriage equality.
Always remember, never forget," he chanted at several points. For Eychaner, the evening offered a chance not only to celebrate successes but also to reflect upon how many gains have been won in a spirit of unity and togetherness. "The grassroots process," he recalled. "Fighting in the trenches, one phone call at a time. There was a time when most Americans did not know that they knew an LGBT person. The process of coming out; coming out to friends, our family, our coworkers has led us to where we are today."
In September 2010, President Barack Obama appointed Eychaner a General Trustee to the Board of Trustees of the John F. Kennedy Center for the Performing Arts. He also serves on the boards of the Joffrey Ballet and of the Art Institute of Chicago and as a trustee of the Asian Art Museum in San Francisco, California. (Note: information listed has not been updated since the member's induction).