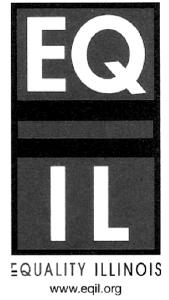 ORGANIZATION | Inducted 2005
Equality Illinois was formed in 1992 to "secure, protect and defend the basic civil rights of gay, lesbian, bisexual and transgender Illinoisans." Its original name was Illinois Federation for Human Rights. Earlier, its founders had played a vital part in ultimate passage of a Chicago Municipal Code amendment—first proposed in 1973— that added sexual orientation to the list of categories in which discrimination is prohibited and that strengthened enforcement authority. The core of the successful amendment is now often called the Chicago Human Rights Ordinance.
In January 2005, the organization scored an even bigger victory through passage by the Illinois legislature of a nondiscrimination bill (S.B. 3186), which amended the Illinois Human Rights Act and which was signed into law by Governor Rod Blagojevich on January 21. Illinois thus became one of only 14 states and the District of Columbia that legislatively prohibit discrimination in housing, employment, and public accommodations on the basis of sexual orientation. In its final version, the Illinois legislation specifically defines sexual orientation to include gender identity.
Equality Illinois had pushed for passage of such a statewide bill almost since its 1992 formation. This campaign was a heightened version of one that activists had first launched in Springfield 18 years earlier, in 1974. Now, 13 years later, Equality Illinois has succeeded in achieving enactment of the long-sought measure.
In the interim, the group registered thousands of Illinoisans to vote, lobbied lawmakers for the bill, and built an effective network of grassroots lobbyists throughout the state who could be mobilized in short order. In January 2005 during the bill's final stage, Equality Illinois was responsible for originating more than 10,000 telephone calls and letters to Illinois legislators, calling for the bill's passage. While doing all of this, Equality Illinois also helped to defeat homophobic legislation and is still working toward that end, including the defeat of promised attempts to gut the nondiscrimination bill that passed just last January.
In the interim as well, the group helped local activists to pass nondiscrimination ordinances in their own Illinois municipalities, including Bloomington, Decatur, Normal, Peoria, and Springfield. This was part of its strategy to build local support for eventual passage of the statewide bill. In addition, Equality Illinois encouraged corporations to adopt policies of nondiscrimination and domestic partnership employee benefit programs.
During its 13 years of existence, Equality Illinois has grown into one of the Midwest's strongest sexual-minority civil rights organizations. Its Springfield success in 2005 is testament to that fact. (Note: information listed has not been updated since the organization's induction).