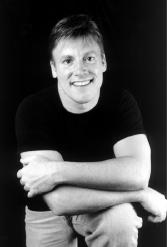 INDIVIDUAL | Inducted 2001
A dancer, choreographer, and producer, Keith Elliot has spent more than 12 years in organizing annual "Dance for Life" fund-raisers and ancillary events benefiting dancers and others fighting HIV/AIDS. He has also contributed to other activities such as Howard Brown Health Center's "Who's That Girl" fund-raisers and the Chicago Gay Men's Chorus.
Chicago's annual "Dance for Life" HIV/AIDS fund-raiser, now in its 10th year, developed from an idea of Keith's. Having been a principal dancer with the Joseph Holmes Chicago Dance Theatre, Elliott felt deeply the loss of fellow dancers and friends from the disease. He thought of a way to help. He decided to gather Chicago's leading professional dance companies on one stage, for one evening only, to benefit HIV/AIDS organizations and promote the art of dance. Local dancers answered his call promptly and enthusiastically. Chicago Dancers United was formed to plan the future of "Dance for Life."
As a member of the board that oversees "Dance for Life", Elliott has produced the benefit part of the event six times and has produced the performance all 10 times.
In its third year, "Dance for Life" became the Midwest's largest performance-based HIV/AIDS benefit. It has sold out for 10 years running, and a record high of $300,000 was predicted to be raised at this year's August 25th event. More than $1.5 million had already been raised since the beginning.
Master classes benefiting "Dance for Life" were also established by Elliott. The Chicago area's top choreographers participate in a day-long series of workshops that hundreds of dance students can attend. Elliott also has helped to coordinate "Dance Divas," an evening of female impersonation by male professional dancers at the Baton Show Lounge to benefit "Dance for Life." In addition, Elliott has participated in and helped to coordinate "Youth in Action," which is Wheeling High School's mini-"Dance for Life" event, and he founded "Sure They Can Dance, But Can They Sing?" as an evening of vocal styling by some of Chicago's top professional dancers.
Elliott was a driving force in forming the Dance for Life Fund. It was set up to make emergency assistance grants to members of Chicago's dance community living with HIV/AIDS. No one has been tuned down. The fund is a means by which the dance community can help "its own."
Besides the Dance for Life Fund, recipients of assistance from "Dance for Life" have included AIDS Foundation of Chicago, Open Hand Chicago, Howard Brown Health Center, Stop AIDS Chicago, and AIDS Alternative Health Center.
And besides "Dance for Life" work, as a freelance producer Elliott has been an integral part of the annual "Who's That Girl?" benefits at Park West for Howard Brown Health Center. He has also performed with the Chicago Gay Men's Chorus and choreographed many of its concerts, in addition to choreographing Miss Illinois Teen USA and Miss Illinois USA pageants and the winning performances by the past seven holders of the Miss Gay Continental title.
(Note: information listed has not been updated since the member's induction).