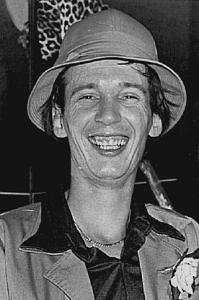 Photo by: Gay Chicago Magazine
INDIVIDUAL | Inducted 2008 [Posthumous]
Eddie Dugan (1944–1987), helped invent the disco Ephenomenon in the 1970s, was a brilliant showman and popularizer, always ahead of the times. He was also a great asset to the LGBT communities, donating time, space, and financial support to numerous organizations, many of which were then in their infancy.
Dugan supported many artists—dancers, singers, painters, photographers, and comedians. He was the first disco owner to bring recording artists to the club to perform live in front of an audience. He was also instrumental in getting corporations, such as liquor companies, to sponsor events at gay clubs, a practice that is now considered ordinary but at the time broke new ground.
Born Edward L. Davison, Jr., in Chicago on August 20, 1944, he graduated from Carl Schurz High School. After a stint in New York as a window dresser, he returned to Chicago and worked as a bartender in different venues. Under his adopted name Eddie Dugan, he opened Dugan's Bistro to great fanfare in 1973. The club was an immediate sensation and attracted nationwide interest, serving as a mecca for celebrities passing through the city. The Bistro was frequently mentioned in gossip columns of the daily newspapers, which in those days seldom covered gay issues.
Dugan was an early supporter of many organizations, such as Gay Horizons (precursor of Center on Halsted) and the Human Rights Campaign Fund (now called Human Rights Campaign). He helped with the start-up of Gay Chicago Magazine. He also boosted the careers of local comedian Pudgy and singer Frannie Golde. In 1976, Dugan invested in the Marlin Beach Hotel in Fort Lauderdale, Florida, and through his efforts the hotel's hugely popular "Poop Deck" became nationally known.
The Bistro closed in 1982. Dugan went on to open Paradise in 1984 and Bistro Too in 1986—but nothing ever really compared to the legendary Bistro, which still lives in the memories of many Chicagoans and their friends across the United States. Dugan died in 1987.
Eddie Dugan's favorite saying was "life is a banquet." For the many memories and extensive support that he gave to Chicago's LGBT communities, he has won a place in the Chicago Gay and Lesbian Hall of Fame.