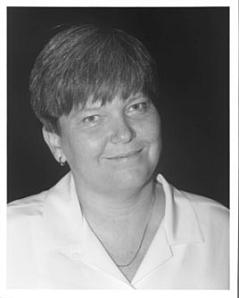 INDIVIDUAL | Inducted 1998
Active in local independent politics and in gay and lesbian organizing, Laurie Dittman was a chief lobbyist during passage of city and county laws against sexual-orientation discrimination. A former official of IVI-IPO, IMPACT, and the Human Rights Campaign Fund, she became a deputy city treasurer and the highest ranking openly gay or lesbian Chicago city official at that time.
After receiving her 1979 degree in political science from Knox College in Galesburg, Dittman relocated to Chicago. She became a volunteer and, later, part-time administrative assistant at the Independent Voters of Illinois–Independent Precinct Organization (IVI-IPO). She emerged politically and in other ways when she organized the first independent gay and lesbian caucus of IVI-IPO and became a core member of Lesbians and Gays for Washington, working successfully both on Harold Washington's historic first mayoral campaign and on his second.
As executive director of IVI-IPO from 1981 to 1990, Dittman ensured the organization's active role in the struggle for lesbian and gay civil rights when she assumed a leadership role in Gay and Lesbian Town Meeting, the late-1980s organization that took over the long campaign to prohibit discrimination in Chicago because of sexual orientation. Dittman effectively used her contacts with a diverse range of public officials, as well as her involvement with such allies as the Chicago chapter of the National Organization for Women, to help develop winning strategies that led to passage of Chicago's expanded human rights law on December 21, 1988.
Later, Dittman was a key organizer for passage of Chicago's hate crimes ordinance in 1990, and she played a significant role in achieving passage of the Cook County Human Rights Ordinance in 1993.
Continuing her political work, Dittman served as Midwest regional coordinator for the Human Rights Campaign Fund in 1990 and 1991 and as executive director of IMPACT from 1991 to 1993. She then entered government service.
Under City Treasurer Miriam Santos, she served first as Special Assistant to the City Treasurer, a position from which she successfully fought for introduction and passage of a city ordinance requiring banks to pledge nondiscrimination in their lending practices in order to maintain their status as depositories of city funds. From 1994 until now, Dittman has served as Deputy City Treasurer and is the highest-ranking openly gay or lesbian person in Chicago city government.
In addition to being named as Organizer of the Year by Gay Chicago Magazine, Dittman has received the Liberty Bell Award from the Chicago Bar Association, an award of merit from the Chicago Commission on Human Relations, various IVI-IPO awards, and IMPACT's Alongi Award. (Please note: this information has not been updated since the time of the member's induction).