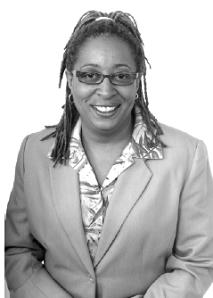 INDIVIDUAL | Inducted 2007
For many years, Tarrina Dikes, has been a dynamic presence as one of the most dependable and committed members of Chicago's LGBT community. She has served with a constellation of activist organizations and is known as a talented, hardworking individual. She is always ready to do whatever it takes to see a project through to completion. In the African American lesbian community, Dikes is recognized as a resource person who can be called upon to serve at any time. She is known for being honest in her relations with others and is respected for her willingness to give from the heart.
From November 1998 through May 2003, she served as a volunteer fundraiser for Howard Brown Health Center. She became the volunteer executive director of Performers or Writers for Women on Women's Issues (POW-WOW), a youth and adult nonprofit cultural organization based on Chicago's South Side. She served in this capacity until March 2007, when the organization restructured and dissolved the board.
While working full-time as an employee stock plan administrator for Walgreen Co., Dikes served Chicago 2006, Inc., which produced Gay Games VII, as a member of its board's executive committee and as board secretary. She very quickly facilitated a fundraising relationship with Walgreen's that brought $100,000 to the Gay Games. Her background in accounting and business operations was a significant asset to the Gay Games organization.
In February 2005, Dikes joined the Lesbian Leadership Council that is part of the Chicago Foundation for Women, and in January 2007 she was recruited to join the board of Affinity, which provides a safe, nurturing space for lesbian, bisexual, and transgender women of African descent on Chicago's South Side.
Tarrina Dikes's contributions to her community have been profound. As Chicago Gay and Lesbian Hall of Fame member Jacqueline Anderson put it, "There is no event that she is a part of that her presence is not felt. She will set up chairs, clean up after the event, and offer whatever resources she has at her disposal. She seems never to tire and I have never seen her without a smile. She supports the efforts of others completely, whether it is selling tickets, recruiting entertainment or cooking for a group. She is one of the most dependable and committed lesbians in our community." (Note: information listed has not been updated since the member's induction).