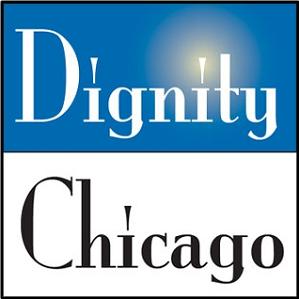 ORGANIZATION | Inducted 1997
Since 1972, Dignity/Chicago has served the needs of gay and lesbian Roman Catholics and advocated for the full participation of sexual minorities in church life. It has also been outspoken on issues of lesbian and gay rights in civil society.
Dignity/Chicago has its roots in a spiritual organization created by Mary Houlihan in 1970. She was a member of the Legion of Mary who learned of a need to minister to the gay community. After meeting with a group of interested gay Roman Catholics, it was decided to begin holding a special Mass for the community. The first one was held in the apartment of Wayne Evans, a former Benedictine monk, on October 14, 1970.
Such masses continued until February 1971, when they drew negative attention from the late Cardinal Cody and were temporarily stopped until oral permission was received from him to continue two months later. Eventually, the masses settled into a home at St. Sebastian Church, and in February 1972 oral permission was granted to hold them on Sunday evenings. About that time, the fourth chapter of Dignity was being formed in Chicago, and in July 1972 Dignity unofficially took over organizing the Mass for the gay and lesbian community.
In early years, Dignity/Chicago was among the few non-bar gathering places for lesbians and gay men and assumed the role of an increasingly strong political organization. It became a starting point for many actions in the Chicago and national lesbian and gay movement.
Dignity/Chicago's activism was visible in the 1970s. It helped to co-found Call to Action, a major coalition of progressive Catholics, in 1977. That same year, the Chicago chapter hosted Dignity/USA's third national convention. In 1978, Dignity/Chicago cosponsored the Orange Ball, a Chicago fundraiser to combat Anita Bryant–backed anti-gay referenda nationwide. Later that year, Dignity/Chicago chartered two buses to Wichita, Kansas, to try to defeat an anti-gay measure.
During the 1980s and 1990s, the number of groups providing outreach to the gay and lesbian communities steadily increased, and Dignity turned its political focus on the Roman Catholic Church itself. In the 1980s, Dignity's affirmation of its members' sexual activity came under official church criticism. Members were told to comply with traditional church beliefs on homosexuality or no longer to consider themselves one with the archdiocese. The membership was torn apart. Some left altogether. Others joined the Archdiocesan Gay and Lesbian Outreach (AGLO). Still others remained with Dignity/Chicago and searched for a new worship space, since they were no longer allowed to meet at St. Sebastian or any other church property.
In the 1990s, Dignity has continued to assert its role as "a Roman Catholic, gender-inclusive community celebrating the holiness of all sexual orientations and committed relationships." The group has maintained involvement with community gay and lesbian organizations and with Call to Action. After 25 years, Dignity/Chicago is in its third home since St. Sebastian, at the Broadway United Methodist Church, and has been awarded a grant by the First United Church of Oak Park for its programs of support and education. It continues to seek inclusion of gay, lesbian, bisexual, and transgender people in the life of all faith communities and especially as full, equal members of the Roman Catholic Church. (Please note: this information has not been updated since the time of the organization's induction).