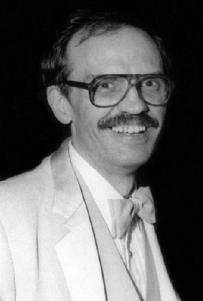 Photo by: Gernhardt Publications, Inc.
INDIVIDUAL | Inducted 2010 [Posthumous]
Dan Di Leo moved to Chicago in 1977 and shortly afterward began working as a typesetter and editor for Ralph Paul Gernhardt's Gay Chicago News, the first weekly publication serving what was then "Chicago's lesbigay community." When, a few months later, that struggling newspaper ran into financial difficulties, Di Leo—who was a military veteran and an experienced journalist—became, with Gernhardt, a partner and co-publisher of Gay Chicago Magazine.
Di Leo was a fighter throughout his life. Born at Cook County Hospital in 1938, at the age of six he was placed in foster care and lived with more than a dozen families in northern Illinois and southeastern Wisconsin. He attended Marquette University in Milwaukee and, while still a student, began his newspaper career at the Milwaukee Sentinel. After being drafted into the military in 1961, he served two years at Fort Carson, Colorado, before re-enlisting and taking an assignment as an interpreter and intelligence agent in West Berlin, where he also worked for The Berlin Observer, an English-language newspaper. After leaving military service in 1967, Di Leo held a variety of editorial positions at the Decatur Herald and Rockford Morning Star. Upon moving to Chicago, he became a copy editor at the Chicago Sun-Times.
Di Leo's experience, knowledge as a journalist, and experience as a businessman were largely responsible for the early growth of Gay Chicago Magazine. In the years when Di Leo and Gernhardt published the magazine (along with Gay Detroit, Gay Ohio, Midwest Times, and Gay Milwaukee, none of which lasted very long), they worked to build Gay Chicago and increase the staff of journalists to meet the demands of changing times. The two men learned from each other and taught their staff lasting lessons in editorial and business honesty, integrity, and ethics.
Di Leo was one of the founders of Strike Against AIDS and the Mr. Windy City contest. He was also one of the original contributors to Howard Brown Memorial Clinic, now the Howard Brown Health Center.
For the last years of his life, Dan Di Leo lived with AIDS, fighting opportunistic illnesses one by one and succeeding beyond the expectations of medical authorities. He succumbed to his illness in November of 1989, but his memory lives on, both in the Chicago community and in the enduring strength of Gay Chicago Magazine.