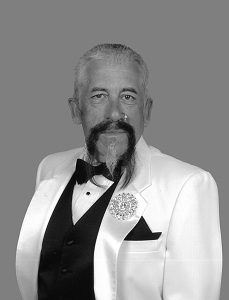 INDIVIDUAL | Inducted 2012
St. Sukie de la Croix, the man the Chicago Sun-Times described as "the gay Studs Terkel," came to Chicago from his native Bath, England, in 1987 and in the years since has painstakingly explored, documented, and revealed the queer lives and history of his adopted home. He has published oral-history interviews; lectured; conducted historical tours; documented LGBT life through columns, photographs, humor features, and fiction; and written the book "Chicago Whispers" (University of Wisconsin Press, 2012) on local LGBT history.
His interviews, columns, and archival tidbits have given depth and colorful substance to the LGBT history of Chicago, often by chronicling and exploring the underground, bar-life, and nightlife aspects of the LGBT communities. He has had regular columns in local publications or online news and entertainment sources such as Chicago Free Press, Gay Chicago, Nightlines/Nightspots, Outlines, Blacklines, Windy City Times, and GoPride.com as well as numerous others outside the city. His popular blog "Bitter Old Queen" focused on history and humor and was published on the Chicago Tribune Media Group's website Chicago Now. In addition he has contributed to publications such as PerVersions: The International Journal of Gay and Lesbian Studies.
In 2008 he was a local historical consultant as well as an on-screen interviewee for the WTTW television documentary "Out & Proud in Chicago". In 2005 and 2006 he had two of his plays, "A White Light in God's Choir" and "Two Weeks in a Bus Shelter With an Iguana", performed by Chicago's Irreverence Dance & Theatre company. From 1998 to 2000 he scripted and conducted the Chicago Lesbian and Gay Tour for Chicago Neighborhood Tours, a division of Chicago's municipal tourism authority. The tours were characterized by de la Croix's historical expertise as well as his signature humor and wit.
In addition, de la Croix has served on the board of directors of Gerber/Hart Library and Archives and in 2009 was on the programming committee of Reeling 28: The Chicago Lesbian & Gay International Film Festival. A popular and engaging lecturer, he has spoken at an array of venues from Chubb Insurance to Boeing and from Horizons Gay Youth Services to a Chicago Area Gay and Lesbian Chamber of Commerce awards ceremony.
His crowning achievement came in 2012 when the University of Wisconsin published his in-depth, vibrant record of lesbian, gay, bisexual, and transgender Chicagoans, "Chicago Whispers: A History of LGBT Chicago Before Stonewall". With a foreword by the noted historian John D'Emilio, the book received glowing reviews and cemented de la Croix's deserved position as a top-ranking historian and leader in preserving the rich past of LGBT life in the Windy City. (Note: information listed has not been updated since the member's induction).