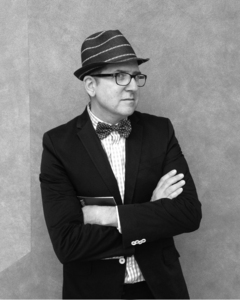 INDIVIDUAL | Inducted 2016
David Csicsko is an acclaimed graphic artist and designer whose distinctive artwork, stained glass, and mosaics have beautified many Chicago locales, including the Belmont "EL" Station. His many credits include designing the 2012 holiday season displays at the White House.
A prolific artist of engaging and spirited imagery, David Lee Csicsko has created numerous distinctive works around Chicagoland and beyond, from large installations to posters for various community and cultural events. In his career as an artist, Csiscko's clean and distinctive aesthetic has evolved while remaining unique, enhancing his public recognition as well as general interest in his work.
Csicsko has created graphic designs for the Chicago Public Library; the Museum of Science and Industry's exhibition, "History of the Video Games;" "Behind the Lions", a children's book for the Art Institute; "The Skin You Live In", a children's book for the Chicago Children's Museum; and even the posters for the Gay Games.
As an artist Csicsko draws upon various sources of inspiration, looking to nature, human diversity, community, and even needlepoint patterning. As a result, the crisp, graphic results are uniquely his own. Csicsko is perhaps best known for his highly visible, joyful and large-scale mosaic projects that beautify Chicago. His larger projects have included work for public spaces throughout the city. His tile and glass mosaics have vitalized and beautified the Belmont Red-Line CTA station. Other mosaic projects include Margaret Donahue Park, St. Columbanus church, and the Loyola School of Nursing. His stained glass mosaics adorn the hospital chapel at the Ann & Robert H. Lurie Children's Hospital of Chicago and St Benedict the African Church.
In 2012, Csicsko was honored with designing the holiday displays at the White House. Despite the attention from enormous projects such as these, Csicsko has also found the time to design a series of volunteer t-shirts for the Groceryland food pantry. Through his use of color, bold graphics and playful patterns, David Lee Csicsko celebrates the richness and diversity of life. His vision and art have beautified and enhanced our nation, our city, and our community. (Note: information listed has not been updated since the member's induction).