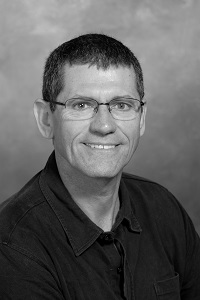 Photo by: Hal Baim/Windy City
Times and ChicagoGayHistory.org
INDIVIDUAL | Inducted 2014
Terry Cosgrove is the president and CEO of Personal PAC. In 1989, he was hired as the political action committee's executive director. In 1999, he assumed his present position. Along with the board of directors, he has been instrumental in developing Personal PAC's sophisticated strategy for electing candidates who support women's right to choose abortion. The strategy incorporates an intensive telephone program that has identified nearly a half million pro-choice Illinois voters, plus a highly developed direct-mail campaign and comprehensive campaign consulting.
Cosgrove's campaign consulting is a major aid to Personal PAC's political strategy. He works closely with candidates to make sure they have the tools to win. He helps them with selecting pollsters, media consultants, direct-mail firms, and paid staffers. He helps them recruit volunteers, conduct fundraising, and organize other activities. During his Personal PAC tenure, Cosgrove has also assisted other feminist and pro-choice organizations. In 1992, he played a pivotal role in restoring abortion services at Cook County Hospital (now John H. Stroger, Jr. Hospital of Cook County).
Cosgrove has received the Freedom of Choice award from the Chicago Abortion Fund (2004) and was a 2010 recipient of the Impact Award from the Chicago Foundation for Women. In 2008, he received the Harold Washington Award from the Independent Voters of Illinois–Independent Precinct Organization. He is a board member of the Trust Women Foundation, which helps women to gain access to reproductive health-care services. He is also a board member of the Equality Illinois PAC, and he is a member of the Illinois Human Rights Commission by appointment of Governor Pat Quinn.
He received his bachelor's degree in political science and two master's degrees in labor and industrial relations and in social policy from the University of Illinois at Urbana- Champaign. In 1980, while at the university, he and a male friend filed and won settlement of a public-accommodations discrimination case against a Champaign bar for refusing to allow them to dance together, which was Lambda Legal's first known such settlement.
As an out student leader who chaired the Urbana Human Relations Commission from 1976 to 1979 and was a student university trustee, Cosgrove also succeeded in winning other local gay-rights victories and lobbied for state legislation. He has said that he sees his present reproductive-rights work as going hand in hand with LGBT equality because they are both civil-rights issues. (Note: information listed has not been updated since the member's induction).