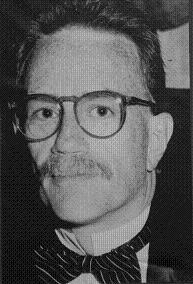 INDIVIDUAL | Inducted 1993 [Posthumous]
He was involved in forming more than a dozen community groups including University of Chicago Gay Liberation, Chicago Gay Alliance, Windy City Gay Chorus, and Chi-Town Squares. He was a key participant in the NAMES Project's Chicago chapter and a charter member of Test Positive Aware Network. Born in 1943, he died of AIDS complications in 1991.
A lifelong resident of Chicago, Jerry Cohen contributed his unique talents to the development of a variety of businesses and organizations over a 22-year period. Many of these still provide Chicago's gays and lesbians much needed options for a healthy and satisfying social life.
Cohen began his involvement in gay and lesbian community life at age 26, by attending the University of Chicago gay liberation meetings in late 1969. With the addition of a North Side group, these meetings evolved into the organization known as Chicago Gay Liberation. Cohen participated in many of the group's activities, and he was among the 200 or so pioneers who took part in Chicago's first gay pride march in 1970 at Bughouse Square.
By 1971, he had become a co-founder and Treasurer of the Chicago Gay Alliance. While walking his dog, he happened on a house for rent at 171 West Elm Street. That house became the city's first Gay Community Center. And the first gay information line originated in Cohen's home. He was also instrumental in helping to organize Chicago's first gay pride week in 1971, and Cohen drove the lead car in the first formal parade.
He later worked as a photographer throughout the gay and lesbian community, and he submitted items for the Chicago Gay Alliance Newsletter and the Chicago Gay Crusader, and regularly published until the early 1980s in GayLife. Cohen worked with Chuck Renslow, documenting events at Man's Country and the early International Mr. Leather contests. He also established his own photography studio, A Thousand Words, Unlimited.
During the late 1970s, Cohen brought his growing business and accounting acumen to use as the first Business Manager of the then-new Windy City Gay Chorus [WCGC]. He went on to become Treasurer of Toddlin' Town Performing Arts, an umbrella group that included WCGC, the Chicago Gay Pride Band, and Artemis Singers. Another activity he planned and coordinated, the first Gay/Lesbian Choral Directors' Conference, was the birthplace of GALA, the international gay and lesbian chorus association.
When the AIDS epidemic appeared in Chicago, Cohen became a volunteer with Howard Brown Memorial Clinic; following the death of his lover, he became involved with the formation of the Chicago Chapter of the Names Project, and he worked to bring the Quilt to Chicago for the first time.
Cohen also co-founded the Chi-Town Squares, establishing gay and lesbian square dancing as yet another social outlet.
Diagnosed as HIV-positive in 1984, Cohen maintained active involvement with little visible signs of illness until 1988. He was a participant in HBHC's Multi-Cohort AIDS Study, and he took treatment at Northwestern and was part of several investigational drug protocols. He and his partner, Alan Amberg, became charter members of the Test Positive Aware Network group for couples dealing with HIV/AIDS. Jerry Cohen died from complications of HIV-infection on November 26, 1991.