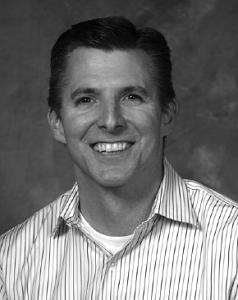 Photo by: Hal Baim/Windy City Times
INDIVIDUAL | Inducted 2008
Sam Coady, was born in 1964 in Ames, Iowa, where he grew up as the son of a college professor and a nurse for the terminally ill in a family of athletic, community-minded siblings and parents. He moved to Chicago in 1986 and quickly became known for his passionate belief that the LGBT athletic community empowers and advances the whole range of LGBT communities in the city and nationally.
Coady's leadership in Chicago's sports community is remarkable. In 1990, he founded the Chicago Hoops Classic lesbian and gay basketball tournament, which has grown into the largest annual LGBT basketball tournament in the world. At the end of his tenure as director, the tournament was renamed the Coady Roundball Classic to honor his contributions and dedication.
He has repeatedly represented Chicago in the North American Gay Amateur Athletic Alliance's Gay Softball World Series and helped both the Chicago Metropolitan Sports Association and the Windy City Athletic Association run softball tournaments, serving on the WCAA board for seven years.
Coady was a founding member of the Quaker Oats LGBT employees affinity group in the 1990s, leading to Quaker Oats' eventually offering domestic partnership benefits in advance of many other corporations, enhancing LGBT visibility and workplace equality, and helping to create a safe and affirming work environment. He currently works in corporate finance for the Chicago Mercantile Exchange, where he has also been instrumental in securing domestic partnership benefits, and where he secured the first LGBT sponsorship in that company's history with its support of Gay Games VII in 2006.
Coady's personal commitment to athletics and his professional background, along with his determined commitment to Chicago's LGBT communities, provided the critical foundation for his selection to co-chair Chicago's Gay Games VII. His leadership was central to reversing a 25-year trend of unprofitability for this multimillion-dollar event when Chicago's Games finished by breaking even. In addition, the Games generated unparalleled corporate and community involvement, with more than 350 corporate and individual sponsor partners.
Sam Coady is an ongoing contributor to many organizations that serve our communities, including the Center on Halsted, Howard Brown Health Center, Lambda Legal Defense and Education Fund, Equality Illinois, the Human Rights Campaign, the Windy City Athletic Association, and the AIDS Foundation of Chicago.