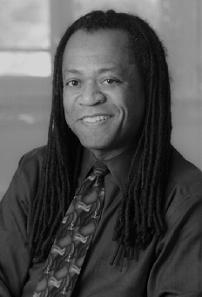 INDIVIDUAL | Inducted 2004 [Posthumous]
Charles E. Clifton made significant contributions as a health advocate for nearly 15 years before his death at age 45 on August 15, 2004. After moving to Chicago in 1995, Clifton was involved in Test Positive Aware Network (TPAN), the Midwest's oldest community-based HIV/AIDS treatment agency, where he was a program coordinator until 1997. Clifton earned a bachelor's degree in U.S. history from San Francisco State University in 1993 and master's degrees from Dartmouth College in 1994 and the University of Chicago in 2002.
He was a member of the Men of Color HIV/AIDS Coalition and was its director in 1999 and 2000. In addition, he belonged to Chicago Black Lesbians and Gays, Brothers United in Support, the Chicago HIV Prevention Planning Group (where he co-chaired the needs assessment committee and served on the executive committee), and the AIDS Foundation of Chicago's Service Providers Council and its executive and advocacy/public policy committees.
With the Chicago Department of Public Health's Office of LGBT Health, Clifton served as a script consultant and agency partner on the "Kevin's Room" project and provided ongoing counsel to the office about relevant, emerging health issues in Chicago.
In July 2003, Clifton was selected by Dr. David Ho to serve on the scientific program committee's community liaison subcommittee for the 11th Conference on Retroviruses and Opportunistic Infections. In addition, during his life he made important contributions to the National Minority AIDS Council, the National AIDS Treatment Action Forums, Positivewords.com, the AIDS Treatment Activists Coalition, the Black AIDS Institute, and the National Association of People With AIDS.
Clifton's start in AIDS activism dates back to 1991, when he served as a health educator for a minority AIDS project in San Francisco and Oakland. In fact, it was in April 1986 that he first learned his own HIV status, before the death of his then-partner in October of that year as a result of AIDS complications.
In 2000, Clifton became the first African American editor of TPAN's internationally distributed HIV/AIDS journals, Positively Aware and Positively Aware en Español. In 2002, he became the first person to serve simultaneously as executive director and editor at TPAN.
Clifton's achievements in health and treatment education and HIV/AIDS awareness were unique and far-reaching, particularly among gay men of color. Until his death, he continued to work tirelessly on local and national levels as an AIDS advocate and to increase HIV knowledge and sensitivity in communities of color.