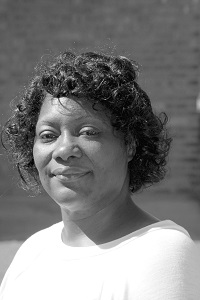 FRIEND OF THE COMMUNITY | Inducted 2014
Lucretia Clay-Ward is an HIV/AIDS survivor, counselor, and advocate and an HIV-prevention educator focusing on youth services. She provides advocacy and support for sex workers wanting to quit. She offers information on employment, educational services, health care and mental-health services, housing, and domestic-violence referrals, as well as substance-abuse recovery and legal assistance, to all who need a voice, whether LGBT or not, youth or adult. Clay-Ward has been quoted regarding an earlier life of prostitution that included being sold to a pimp at a young age, being prosecuted many times, and eventually being rescued with the help of a parole agent.
Later, she was employed by Prologue, Inc., as an outreach supervisor, a position in which she counseled transgender sex workers and helped them find their way back into legitimate society. As supervisor for Prologue's Night Moves Mobile Outreach program for the past seven years, Clay-Ward and her staff could be found on weekends from midnight to 6 a.m. in the Boystown neighborhood and citywide, distributing safe-sex kits, condoms, and information. She has also worked as a teacher's assistant at Prologue's alternative high schools, specializing in HIV-prevention education. There, Clay-Ward works with youth who have been expelled from or who have dropped out of traditional schools, and for many this is their last chance. She occasionally uses her own funds to buy coats, shoes, and food for youth in need. She has even opened her home to youth who were facing homelessness. Students call her for help day and night when they find themselves in trouble.
Clay-Ward was included in a 2006 documentary, "Turning a Corner", produced by Beyond Media Productions, focusing on survivors of the sex trade industry, who were affiliated with the Prostitution Alternative Roundtable (PART). She has been interviewed by Chicago Public Radio and has been a member of the city's Intersystem Assessment Work Group, which has studied Chicago's response to prostitution. She has been featured in newspaper articles, and the Alexian Brothers' Bonaventure House gave her an award in 2005. She was also honored by the Women's Treatment Center in 2006 for her volunteerism and motivational excellence. (Note: information listed has not been updated since the member's induction).