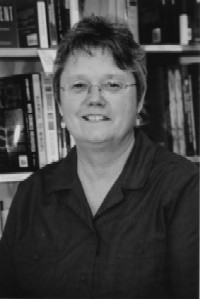 INDIVIDUAL | Inducted 1992
As a successful businesswoman (of Women & Children First bookstore), she has provided a positive role model and developed activities and programs to meet the needs of Chicago's gay and lesbian community. For over 15 years, Ann Christophersen has distinguished herself as a business owner, political activist and advocate for the needs of women, children and the lesbian community of Chicago. As an adjunct to her business of providing high quality reading material of interest to families, women, children and lesbians, she regularly hosts events of interest to the women's community. She has continually met a need among women that has often been neglected within the gay and lesbian community and the community at large.
As co-owner of Women & Children First Bookstore, Christophersen has provided leadership by providing supportive reading materials and a congenial, friendly environment for people interested in women's, children's and lesbian issues. People from throughout the Chicago metropolitan area have sought out the resources provided by the bookstore. At a time when other resources in the community were lacking, Chrisophersen's leadership and commitment to women's issues has provided a public forum for writers to present their ideas and written works to the community.
As an active member of Chicago's gay and lesbian community Chrisophersen has also been active in numerous organizations including IMPACT, the Mayor's Committee on Gay and Lesbian Issues, and served as a board member of Gerber/Hart Library.
Christophersen and her business partner Linda Bubon were the recipients of the Glyn Sudberry Award from the Gay and Lesbian Caucus of the IVI-IPO in 1987 and the Illinois Women's Agenda Women of Illinois Repute award in 1990. Please note: this information has not been updated since the time of the member's induction.