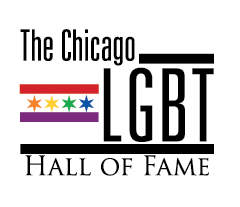 The Chicago LGBT Hall of Fame was founded in 1991 to honor people and entities, nominated by the community, who have made significant contributions to the quality of life or well-being of the LGBT community in Chicago. The Chicago LGBT Hall of Fame inductees for 2020 were selected from a slate of candidates submitted by Chicago's LGBT community. This year's individuals, organization, businesses and "Friends of the Community" (allies) inductees are as follows:
Individual Nominees
John Ademola Adewoye: in recognition of his work in helping offer asylum and counseling to LGBT people from less welcoming environments such as Africa, the Middle East and Eastern Europe and for providing housing, connections and services to help them navigate their new world.
Caprice Carthans: in recognition for her work with many community agencies including AIDS Foundation of Chicago, Chicago House, and Heartland Alliance as a transgender advocate.
Raymond Crossman, PhD: as the longest-serving LGBT university president in North America, Crossman helped pave the way for LGBT leaders in higher education. He co-founded LGBT Presidents in Higher Education and brought the first national conference for LGBT leaders in higher education to Chicago.
Jay Paul Deratany: recognized for his work as both a human rights lawyer providing volunteer legal services during the AIDS crisis and working with homeless youth and as a board member of Human Rights Watch, which provides support for international LGBT individuals fighting for their lives in countries that have the death penalty for the LGBT individuals.
Ronald J. Ehemann: for 40 years of activism in Chicago's LGBT community. In 1978 Ron Ehemann became one of Chicago's first openly gay attorneys, representing many of the city's bars and organizations. He co-founded Organization to Promote Equality Now (OPEN), Illinois' first gay/lesbian political action party as well as the Greater Chicago Gay & Lesbian Democrats. While doing all of this he helped raise money for community organizations and charities too numerous to mention.
Denise Foy: for her long history of service to Chicago's LGBT community. Beginning in 1993 when she served on the board of Horizons Community Services, fundraising to help establish The Center on Halsted. She was a founding member of the LGBT Community Fund at the Chicago Community Trust. She now serves on the national board of SAGE providing advocacy and services for LGBT elders.
Dalila Fridi: for 20 years of tireless work to advance the rights of LGBT people in Chicago. She has served as a grassroots organizer supporting marriage equality and political candidates who fight for equal rights for the LGBT community. Dalila has also been an advocate for LGBT rights among Chicago's Muslim community advocating for the understanding of intersectionality between Islam and LGBT rights.
Terry Gaskins: for documenting life and activism in Chicago's LGBT community through her services as a photographer and a humanitarian for more than 20 years. She is probably best known as the staff photographer for Gay Chicago Magazine, but she has also donated her time and talents to benefit numerous organizations within and beyond the LGBT community, including animal rights organizations.
Joel Drake Johnson (posthumous): was an award-winning, internationally produced Chicago playwright and teacher. He was nominated for a Joseph Jefferson award five times, Emmy nominated and was a member of the Pen America Center. His most commercial successful work, "Rasheeda Speaking", opened off-Broadway and was nominated for an Outer Critics Circle Award for best new work.
Stephen Kulieke: honored for breaking barriers while covering and advancing the struggle for civil rights equal justice for Chicago's LGBT community. Kulieke did groundbreaking work as a reporter an editor at Chicago's GayLife weekly newspaper from 1977 through 1982. Kulieke was not only at the center of action he was integral to the community's emergence as a social and political force. In the 1980s Kulieke gained recognition throughout the journalism world as the nation's first ever municipal press corps reporter representing an LGBT paper.
Matt Stuczynski: for his work in founding the Chicago chapter of GLSEN (Gay Lesbian Straight Education Network). He has been instrumental in LGBT visibility in schools though out the Chicago area. Under his guidance, Chicago's GLSEN chapter became one of the most successful in the nation. The chapter donated innumerable amounts of LGBT friendly educational materials to the Chicago Public Schools as well as spearheaded protections an inclusive language in the Chicago Teachers Union and Chicago Public School governance.
Michelle Zacarias: for more than a decade of work as a queer, disabled, Latina organizer, she has facilitated social justice, anti-oppression, and LGBT movement work as one of four founding members of the Trans Liberation Collective (TLC) a coalition that formed after the anti-transgender bathroom bills swept the nation in 2017. Michelle continues to positively impact queer communities in her role as a board member of The Brave Space Alliance, a black and brown trans-run non-profit on Chicago's south side, and through her disability-centered community care workshops.
In addition to recognizing the extraordinary achievements of individuals, the Chicago LGBT Hall of Fame also honored one LGBT organizations and two businesses as well as three allies, dubbed "Friends of the Community"
The organization and businesses inducted are:
The Legacy Project: an award-winning cultural and educational non-profit dedicated to researching and promoting the contributions LGBT people have made to world history and culture. The Legacy Walk is the only outdoor LGBT museum walk in the world. It spans one-half mile of North Halsted Street. It is anchored by twenty (20) two-story tall steel architectural pylons which feature forty 18" x 24" bronze memorials highlighting the contributions of LGBT people. The Legacy Walk was declared an historic landmark in 2019. In addition, the Legacy Project has developed an LGBT inclusive curriculum and offers a traveling exhibit of LGBT history.
Windy City Times: since its inception in 1985, under then publisher Jeff McCourt, through the current incarnation with co-founder and owner, Tracy Baim and publisher Terri Klinsky, Windy City Times has functioned as Chicago's premiere news source for the LGBTQ community. The award-winning publication is the only remaining newspaper serving the LGBTQ community in Chicago.
Women & Children First Bookstore: since it opened in 1979, Women & Children First has been Chicago's premiere feminist independent bookstore. As dozens of other bookstores closed during the 90s and 2000s Women & Children First has grown to be one of the largest feminist bookstores in the country stocking more than 30,000 books by and about women, children's books, and the best LGBT literature.
"Friend of the Community", ally inductees include:
Judy Baar Topinka (posthumous): for her support of LGBT causes when it was politically risky for anyone, Democrat or Republican, to be associated with the movement. The fact that she did so as a Republican showed an incredible amount of political courage. She supported the Illinois' Marriage Equality Bill and during the November 20, 2013 ceremony at the University of Illinois at Chicago, when the state's marriage equality bill was signed into law, Judy Baar Topinka was the only Republican speaker at the event. Judy Baar Topinka was "a consistent and firm supporter of gay rights.  Even when attacked by members of her own party for her gay rights support, she never wavered." She was truly a friend of the LGBTQ community.
Brenetta Howell Barrett: honored for her work in the fight for civic and economic rights on Chicago's west side, since the 1960s and for her commitment to addressing homophobia and lack of access to resources in the community. She is notable for her inclusion of the LGBT community in all her endeavors. She has worked with public officials and faith-based community groups to bring greater awareness and resources in the fight against HIV/AIDS, helping reduce the stigma, and fosteried greater acceptance. Barrett's commitment to fighting homophobia continues as she enters her 87th year.
The National Museum of Mexican Art: for the inclusivity of its mission since it opened its doors in 1987. The NMMA has made it possible for Latinx within a cultural context to celebrate their full identity. The programming at NMMA has always intentionally included LGBT artists and performers, programming and displays.
Due to restrictions caused by the Covid-19 crisis, this year's induction ceremony will be a virtual one, and will be webcast October 13, 2020 at 6:30 p.m. in recognition of National LGBT History Month. Plans for the virtual induction ceremony are in progress now, more information on the induction ceremony will be released at a later date.
Founded in 1991 as the Chicago Gay & Lesbian Hall of Fame, the Chicago LGBT Hall of Fame's purpose then, as now, is to honor people and entities, nominated by the community, who have made significant contributions to the quality of life or well-being of the LGBT community in Chicago. It is the first city-sponsored hall of fame dedicated to LGBT people, organizations and community in the United States
The new inductees to the Chicago LGBT Hall of Fame were selected from a slate of candidates submitted by Chicago's LGBT community. That slate of candidates was then reviewed by a selection committee comprised of individual inductees to the Chicago LGBT Hall of Fame. For more information on nominating a candidate for 2021 go to chicagolgbthalloffame.org/nominate.
The first Chicago Gay & Lesbian Hall of Fame ceremony took place during Pride Week and was held at Chicago City Hall. Mayor Richard M. Daley hosted the ceremony and afterwards, photos of the inductees were displayed in City Hall. The Hall of Fame has no physical facility but maintains a website, which allows anyone to visit the Hall of Fame at any time. Traditionally, the City of Chicago has displayed the Hall of Fame materials during induction periods, Pride and in October, Gay & Lesbian History Month.
From its founding in 1991 until 2016 the Gay & Lesbian Hall of Fame relied on support from the City of Chicago. The city ceased funding the Gay & Lesbian Hall of Fame in 2016, at that time, it was rechristened the Chicago LGBT Hall of Fame and has since been supported and maintained by the Friends of the Chicago LGBT Hall of Fame, a 501c3 not-for-profit organization, with approval from the City of Chicago.
For more information, visit the organization's Facebook page, https://www.facebook.com/groups/56108152083/.