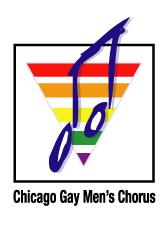 ORGANIZATION | Inducted 2001
Since 1983, the Chicago Gay Men's Chorus has offered audiences a mixture of choral ensemble work and musical theater presented by more than 1,000 past and present members. Over the years, tens of thousands of audience members have been entertained.
The chorus has attained a national reputation for excellence with a wide range of performing styles. Besides more traditional choral performances, it often incorporates dance, sets, costumes, and spoken dialogue found in musical theater. The chorus tries to present original works and fresh arrangements that are designed to celebrate both the serious and the zany elements of gay life.
Acting as ambassadors for Chicago and Illinois, the chorus has traveled and performed nationally in such places as Denver, Los Angeles, New Orleans, Minneapolis, Seattle, Tampa, Detroit, and San Jose. It has also hosted choruses from across the United States and Europe. The chorus strives to be a positive force in Chicago and to provide an important social outlet for its members.
In addition to its three major staged shows each season, the chorus performs at numerous community and benefit events. Appearances have occurred at "A Show of Concern," sponsored by Marshall Field's; "Not Just Song and Dance," for the AIDS Foundation of Chicago; receptions hosted by the major's office; AIDS Walk Chicago; a Midwestern gathering of Parents, Families and Friends of Lesbians and Gays (PFLAG); the Art Against AIDS event; a display of the AIDS Memorial Quilt; and the Illinois state capitol.
Outreach concerts are also performed at colleges such as Northwestern University and the University of Chicago to help young people address issues of sexual orientation.
The chorus performed at "Opening the Curtain to Our Hearts," a scholarship fund-raiser at the Auditorium Theatre for people in need as a result of the September 11 attacks on New York's World Trade Center. The chorus also produced a number of recordings. (Please note: this information has not been updated since the time of the organization's induction).