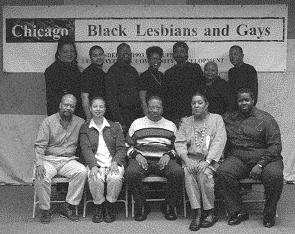 ORGANIZATION | Inducted 2003
Since 1993, Chicago Black Lesbians and Gays (CBLG) as an organization has played a notable role in the Chicago LGBT community. It has represented a citywide coalition of individuals and groups dedicated to social change and development through activism and visibility both in communities of color and in LGBT communities.
In 1996, CBLG co-hosted the largest gay and lesbian event held in connection with that year's Democratic National Convention in Chicago: the Rainbow Jam, an all-communities reception, celebration, and fund-raiser at the Paris Dance bar.
Over its history, the group has been a major local influence in the drive to decrease racism and homophobia by ensuring that the voices of African Americans and other person of color are represented in addressing political, health, and women's issues.
By helping to organize and march in the Bud Billiken and African Liberation Day parades, working for a safe environment at the annual Belmont Rocks Pride event, sponsoring open town-hall meetings, addressing AIDS walk relations with minority communities, and becoming a steering committee for voter registration and AIDS awareness campaigns on Chicago's South and West sides, CBLG has made a significant impact in the education of Chicago's minority communities.
CBLG adopted a practice of holding bimonthly meetings in different parts of the city in order to maximize participation opportunities. It has also sponsored annual Unity Conferences that included dynamic speakers, workshops on political activism and health-related issues, and a focus on educating, informing, and recruiting members from communities of color.
The group has developed links with the National Black Lesbian and Gay Leadership Forum, which held its 2000 national conference here, and with similar community development organizations in other cities. It has received support from institutions such as the Crossroads Fund, the Chicago Human Relations Foundation, and the city Department of Public Health. (Please note: this information has not been updated since the time of the organization's induction).