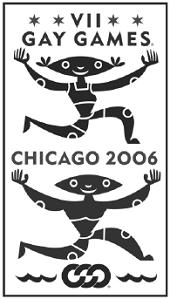 ORGANIZATION | Inducted 2007
With only two years for the planning and implementation of a huge sporting Wevent that encompassed both Chicago and several suburban venues, the board and staff of Chicago 2006, Inc., produced Gay Games VII in Chicago, which brought LGBT athletes and cultural participants together from around the world and highlighted Chicago's support for the LGBT communities. With 12,000 athletes in attendance and an estimated 50,000 supporters watching, Gay Games VII stands, in the words of Mayor Richard M. Daley, as "a unique achievement of far-reaching and historical importance having an impact on Chicago's LGBT community and the City of Chicago."
The opening of the Games in Soldier Field was a momentous and historic occasion for all who were present or watching on television. As the athletes took the field and the lights dimmed to the glow of the rainbow flag, cheers of joy and pride rang out, filling the entire stadium, and making the many hours spent in planning and staging the numerous sports and social events worth the effort.
The board and staff of Chicago 2006, Inc., did a mammoth job in mounting events all over the city and suburbs—even in the small town of Crystal Lake, where board members took the time to fight homophobic attempts on the part of some residents to exclude the Games' rowing teams and their supporters from the town.
Mayor Daley's speeches at the opening and closing ceremonies were indeed historic events, bringing people to their feet for standing ovations both times. Media coverage by such outlets as WMAQ-TV (Channel 5), the Chicago Tribune, Red Eye, and the Chicago Sun-Times was consistent, daily, and informative—followed by all Chicagoans in their audiences. Musical entertainment by Grammy Award–winning DJ and remix artist Frankie Knuckles and singers Holly Near, Sharon McNight, and the group BETTY, comedy by Ant and Margaret Cho, along with appearances by basketball player Sheryl Swoopes and drummer Ubaka Hill, to name just a few, truly demonstrated the diversity of LGBT communities, not just in Chicago and its environs, but worldwide.
Athletes who came to Chicago from around the globe found the city to be warm, welcoming, and embracing. Many said that they would return, again and again, to vacation here and take advantage of both the warm welcome they received and Chicago's many cultural, athletic, and tourist attractions.
As the person who nominated Chicago 2006, Inc., to the Hall of Fame put it, "Those of us who came out in the 1960s were teary-eyed at the ceremonies, as we could not have imagined an event of this magnitude in that decade of Stonewall. When Cyndi Lauper sang 'True Colors,' we were brought to our feet to rejoice as the rainbow flags fluttered in the breezes across Wrigley Field, and Gay Games VII came to an end. The memories and pride that this historic event has brought to our city and community will keep us all smiling for many years to come."