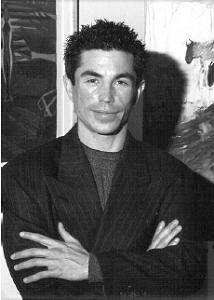 Photo by: Aldo Castillo Gallery
INDIVIDUAL | Inducted 2005
Since his arrival in Chicago, Aldo Castillo has been a tireless charitable fund-raiser, an ardent advocate of Latin American art, and a committed human rights activist. Artist, curator, and art dealer, he is known for his promotion of Latin American art and artists and for his human rights activism in AIDS and political organizations.
Castillo was born in Nicaragua amid a civil war. Instead of being caught up in it as a combatant, he was able to study architecture and graphic design at Rafael Landívar University in Guatemala City. There, he had the opportunity to learn from several famous artists, including the late Dagoberto Vásquez. He also studied with other artists in Lima, Peru, and is himself a gifted sculptor.
From 1982 to 1985 in Guatemala City, Castillo was a curator and graphic designer at Francisco Marroquín University's Popol Vuh Museum, which specializes in Mayan art, colonial art, and folklore. While there, he organized numerous important exhibitions.
In 1985, Castillo came to the United States on a scholarship to the School of the Art Institute of Chicago. After being granted political asylum in 1986 and completing studies, he worked for the publishers Scott, Foresman & Company and Harper-Collins.
As art dealer and curator, Castillo has mounted more than 200 exhibitions and has worked with the art programs of several corporations. In 1993, he opened Chicago's well-known Aldo Castillo Gallery. It specializes in Latin American art, promotes both established masters and emerging talent, and fosters an appreciation of cultural history through lectures, performances, classes, and other events both in and outside the gallery. The gallery has received many artistic and business awards.
As fund-raiser and donor, he has assisted such institutions as Chicago House, River North Dance Company, the Joffrey Ballet of Chicago, NAMES Project, the AIDS Foundation of Chicago, museums of Latin American art, and parks and disaster relief organizations.
As activist, besides AIDS Foundation of Chicago board membership, he volunteered in the Latino program for STOP AIDS Chicago and worked on projects with IMPACT, the early gay and lesbian political action committee.
In 2005, Castillo formed the Aldo Castillo Arts Foundation, a recognized section 501(c)(3) organization to which tax-deductible contributions are sought. Its aim is to promote emerging and established worldwide artists and to foster education about the diversity of art. The foundation and gallery artists are currently collaborating with the long-established Neumann Association on a mural project that will focus on mental illness and those who live with it. The mural will be unveiled in April 2006 as part of the Chicago Festival of Disability Arts and Culture.
As an openly gay and openly HIV-positive human rights activist and artist, Castillo has blazed trails of distinction. (Note: information has not been updated since the time of the member's induction).