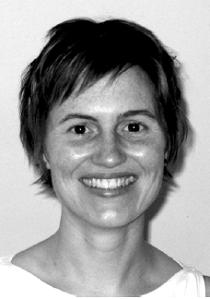 INDIVIDUAL | Inducted 2005
Writer, director, and producer, Megan Carney has changed the landscape of Chicago's sexual- minority communities through her commitment to the healthy development of LGBTQA youth through About Face Youth Theatre as well as through other performance vehicles reaching high-school-age students. Since becoming a founding staff member at About Face Youth Theatre seven years ago, Carney has been in the forefront of creating programming for LGBTQ youth that validates their experiences, helps them to grow personally, and empowers them to create positive change within their communities.
The six shows that Carney has written, directed, and produced for About Face Youth Theatre not only have had an impact on the youth members of the ensemble. These poignant stories also have been shared across Illinois through the high-school outreach tour. The outreach shows, which have been seen by a total audience of about 10,000, are coupled with a post-performance dialogue about acceptance and have been very well received. In 2005, Carney received the Toni Armstrong Jr. Pathfinder Award from GLSEN Chicago, the local chapter of the Gay, Lesbian and Straight Education Network.
Besides her history of examining LGBTQ youth issues through performance while artistic director at About Face, Carney has produced several other projects that address social justice questions, including "Turning CORners", a play she created in 2002 that explores true experiences with race and racism. In addition to performances at other venues, "Turning CORners" was presented at Queen of Peace High School in the Chicago suburb of Burbank after the school encountered serious problems with race issues. The acronym COR in the play's title stands for Catholic Schools Opposing Racism, an organization that was founded by Queen of Peace in 1997. The play also toured to the Illinois High School Theatre Festival.
In addition to her About Face career, Carney has been on the faculty of the Urban Studies Program of the Associated Colleges of the Midwest and has taught for the Jane Addams Hull House Association's Uptown Center, the Chicago Park District, and Anixter Center.
Recently, Carney has been engaged in writing and producing The Home Project, a groundbreaking work that seeks to address the issue of LGBT youth homelessness in Chicago by raising awareness and creating dialogue within the LGBT and larger communities. She also plans to earn a degree of Master of Fine Arts in Theater, with a focus on directing and public dialogue. (Note: information has not been updated since the time of the member's induction).