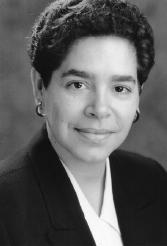 INDIVIDUAL | Inducted 2002
Evette Cardona's lesbian activism began in 1993 when she came out "publicly" and became a founding member of WACT (Women of All Cultures Together), a gathering of lesbians, bisexual women, and heterosexual women allies taking advantage of Chicago's diversity to bridge racial, ethnic, and cultural divides. The group has held monthly potluck brunches throughout the Chicago area. During Cardona's tenure with WACT, over 70 brunches gathered suburban and city lesbians together.
As an organizer, she has helped to lead or found several community groups. In the summer of 1995, Cardona helped to found Amigas Latinas as an organization for Latina les/bi/questioning women. Through a model of monthly dining and discussion groups, the organization has provided a celebratory environment for English- and Spanish-speaking women to learn about the Latina community's diversity. The group addresses such issues as immigration rights, language barriers, and homophobia in special relationship to ethnic discrimination. In 1999, Cardona helped to create the Aixa Diaz Scholarship Gift Fund, named after an Amigas Latinas founder, to aid a Latina lesbian or bisexual student fighting high school homophobia and to aid children of Mozart Elementary School, where Diaz had taught first grade.
In 1997 Cardona became a member of the planning council of Color Triangle, a consortium of persons from various organizations who meet to discuss racism within the Chicago lesbian, gay, bisexual and transgender (LGBT) community. She also co-chaired the Leadership Development Institute, designed to foster leadership in Chicago's LGBT community.
In 1998, Cardona joined the board of the Lesbian Community Cancer Project, which addresses lesbians' and women's health issues. In the autumn of that year, she aided in producing El Sexto Encuentro, the annual conference of LLEGO, the National Latina/o Lesbian, Gay Bisexual and Transgender Organization, which was hosted in Chicago.
Most recently, Cardona has become a member of the Center on Halsted Steering Committee, which in conjunction with Horizons Community Services is developing a community center that is anticipated to open in 2004. The committee is seeking community suggestions and involvement.
Professionally, as a Senior Program Officer at the Polk Bros. Foundation, she co-chaired the Funding Lesbian and Gay Issues Group of the Donors Forum of Chicago, which is a regional association of grant-makers. She is a current board member of the national Funders for Lesbian and Gay Issues and is an executive committee member of Chicago Latinos in Philanthropy. She received a master-of-arts degree from the University of Chicago's School of Social Service Administration in 1998. In 1997, Cardona received a Leadership Award for Community Service from Chicago's Association of Latin Men for Action (ALMA). In 2001, the American Civil Liberties Union of Illinois presented her one of its annual John R. Hammell Awards for her work in the LGBT community. (Please note: this information has not been updated since the time of the member's induction).