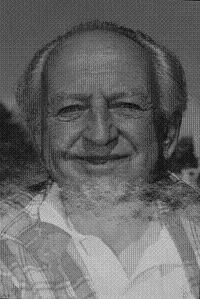 Photo by: Tracy Baim/Outline & Nightlines
INDIVIDUAL | Inducted 1994 [Now Deceased]
As journalist, activist, actor, and minister, George S. Buse made his mark on Chicago's gay and lesbian community. A subject of Studs Terkel's 'The Good War' and of the video documentary 'Before Stonewall', he was a WW II Marine veteran (discharged from a later Navy chaplaincy for being gay). He was a civil rights and anti-Vietnam War activist in the 1960s. Born in 1924, he died in 2000.
Born in Dubuque, Iowa, in 1924, Buse enlisted and served in the U.S. Marine Corps during World War II, attaining the rank of corporal. From 1955 to 1963 he served as a commissioned officer and U.S. Navy chaplain, principally on the West Coast and in Asia. He received an "other than honorable" discharge (later upgraded), or, as Buse puts it, "I was kicked out for being gay."
In the 1960s Buse was active in the civil rights movement and the anti-Vietnam War peace movement. He came to Chicago in 1964, was a member of the Congress of Racial Equality at the Northside Freedom Center, and, as a member of an ad hoc group of members of the clergy, worked to ameliorate the brutality of confrontations during the 1968 Democratic national convention.
For 13 years he was part-time pastor of St. James United Presbyterian Church in Rogers Park and active in community theaters, becoming a member of Actors Equity Association. Closeted as both minister and actor, he chose to "come out" doing something useful. Having served as a journalist with the Roman Catholic publishing house of J. S. Paluch Company, managing a Protestant monthly magazine, Buse offered his writing and editorial talents to GayLife in 1979 and later to Windy City Times. He served both publications as reporter, feature writer, and occasional theater critic.
In the 1970s, Buse served as secretary of the Gay and Lesbian Coalition of Metropolitan Chicago and was a member of Presbyterians for Lesbian and Gay Concerns, preparing slide shows and educational materials for outreach to gay men, lesbians, and their parents.
In his later years, although struggling with disabling arthritis, Buse served in the Chicago chapter of Gay, Lesbian and Bisexual Veterans of America and in the Midwest Men's Center of Chicago, and he spoke to several groups in Chicago in connection with an oral history project for the Stonewall '25 committee.