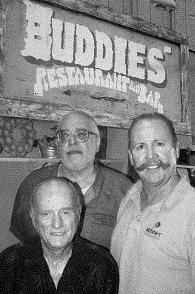 Photo by: Buddies' Restaurant & Bar
ORGANIZATION | Inducted 2003
From 1988 to its closing in 2004, Buddies' was a neighborhood business with a true sense of community, financially supporting innumerable good causes and encouraging its clientele to be themselves in a safe, supportive atmosphere.
Besides providing a comfortable, all-inclusive, convivial place to eat or drink from a constantly creative menu, Buddies owners, partners George Brophy and Martin Enright and their good friend Michael Shimandle as general manager, supported innumerable good causes.
Among the beneficiaries of Buddies' generosity over the years have been Open Hand Chicago, Horizons, Howard Brown Health Center and its Brown Elephant Center and its Brown Elephant stores, Chicago House, Direct Aid, the Illinois Federation for Human Rights, AIDS Walk Chicago, Dining Out for Life, gay and lesbian choruses, the Righteously Outrageous Twirling Corps, the Lesbian Community Cancer Project, Great Lakes Bears, the Illinois Gay Rodeo Association, Stop AIDS Chicago, the Chicago Smelts, LesBiGay Radio and the NAMES Project. The Chicago Gay and Lesbian Hall of Fame itself has been the recipient of 12 annual Buddies' benefit events.
Enright and Brophy, who have been partners since 1977, decided to open Buddies' because they enjoyed the restaurant and bar business and wanted their own. Its Western-casual theme expressed their own lifestyle preferences. Because Brophy had previously worked part-time with Shimandle at such earlier ground-breaking bars as Bushes, Bughaus, and Bulldog Road, he and Enright appreciated Shimandle's flair for design, promotion, and supervision. Shimandle thus became the third member of the Buddies' management family.
The aim of Buddies' was always to let people be themselves in a safe, supportive atmosphere. One of its advertising slogans was "meet, greet, eat." Partly for those qualities, it was picked in 1999 by Genre magazine as one of the nation's "Top 10 Gayest Restaurants."