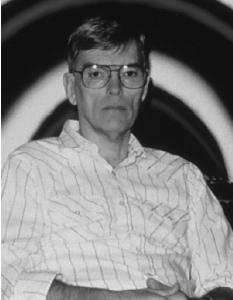 INDIVIDUAL | Inducted 2004 [Posthumous]
Roger Brown achieved international recognition for innovations in American art. He developed a unique way of portraying and pointedly commenting on urban infrastructure, social issues, nature, history, and events both personal and societal.
Born in 1941 in Hamilton, Alabama, James Roger Brown came to Chicago in 1962 to study at the American Academy of Art and at the School of the Art Institute of Chicago. He finished a commercial design program at the Academy in 1964, then studied fine art for four years at the School, which granted him a bachelor's degree in 1968 and a master's in 1970. He then received a fellowship to travel through Europe and Egypt, where he began to collect objects and images that helped to make travel one of the recurring themes of his work.
Brown was a leader in the emerging movement known as Chicago Imagism, characterized not only by its artists' own narrative, communicative originality but by the relations between their works and the objects that they collected and that surrounded them. Brown was also influenced by other ethnicities, self-taught artists, popular culture, politics, and religion. By 1972 Brown gained inclusion in Franz Schulze's book on Chicago art since 1945, Fantastic Images. Brown's relationship with architect George Veronda also began in 1972. Later, both architecture and landscape figured distinctively and prominently in Brown's work, which traversed painting; printmaking; sculpture of found, painted, and assembled objects; stage sets; and mosaic murals (such as those over the entrance at 100 North LaSalle Street and at Howard Brown Health Center). For 27 years he was represented by Chicago's Phyllis Kind Gallery, and his art has been exhibited nationally and abroad.
In 1979, Brown designed sets for a Chicago Opera Theater production of Mozart's "Così Fan Tutte", In that year he also began work on a residence and studio in New Buffalo, Michigan, which Veronda designed. Veronda died of lung cancer in 1984, but Brown continued to live in the Michigan residence while also maintaining his earlier home and studio in a Victorian storefront building at 1926 North Halsted Street. He eventually moved to La Conchita, California. Brown died in 1997 just short of his 56th birthday. He was buried in Opelika, Alabama, and a cenotaph for him is next to Veronda's grave in Chicago's Graceland Cemetery.
Before and after death, Brown gave the School of the Art Institute of Chicago his Michigan residence and studio, which serves as an artist's retreat for faculty and staff; his collection of art, books, and archival materials, which inspired him and now is open to the public as a study collection in the Halsted Street building; and his California home and collection. He also gave the school many of his own paintings and prints in addition to the copyright on all his works.
Brown was both an amateur genealogist and a believer in leaving a legacy to future generations. Of his kaleidoscopic collection and its donation, Brown wrote: "I feel the things in the collection are of universal appeal to all artists and people with a sense of the spiritual & mystical nature that material things can evoke." His visions as a Chicago artist have had worldwide appeal. He died November 22, 1997.