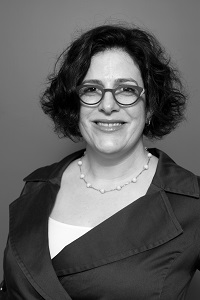 INDIVIDUAL | Inducted 2014
Since her 2003 arrival in Chicago as a faculty member in the University of Illinois at Chicago's departments of history and of gender and women's studies, Jennifer Brier has demonstrated her leadership in and commitment to Chicago's LGBT communities, while also advancing the city's LGBT history, education, scholarship, and activism.
She was granted tenure at UIC and is now an associate professor, recently serving as associate dean in the College of Liberal Arts and Sciences. In 2009, the University of North Carolina Press published her book Infectious Ideas: U.S. Political Responses to the AIDS Crisis, based on her Rutgers University doctoral dissertation. She specializes in U.S. gay and lesbian history and the histories of sexuality and gender, and she regularly teaches undergraduate and graduate courses on all these subjects.
Brier has long involved herself in LGBT-related activist, historical, social, and health causes. Examples include being a mentor at the Point Foundation and serving on the planning committee for the "Out at CHM" series at the Chicago History Museum in partnership with Center on Halsted. Since 2005, she has been a speaker in the series or an active and influential voice behind the scenes.
In 2007, Brier was named co-curator with Jill Austin of the CHM's path-breaking exhibition, "Out in Chicago", which opened in 2011. That project aimed, as a mainstream history museum exhibition, to tell Chicago's LGBT history and make visitors of all backgrounds, ages, sexualities, and identities aware that LGBT history has been part of Chicago history for more than 150 years. As part of the project, she was also co-editor and a contributing author of Out in Chicago: LGBT History at the Crossroads, an accompanying compendium of essays published by CHM, which also preserves some of the most successful and provocative talks from the "Out at CHM" series.
Through her work on boards of the Chicago Cultural Alliance and Astraea Lesbian Foundation for Justice, Brier has helped to increase visibility of racially and ethnically diverse LGBT in Chicago and around the world. She is now director of UIC's Department of Gender and Women's Studies and serves on advisory boards of two university units: the Gender and Sexuality Center and the Jane Addams Hull-House Museum. (Note: information listed has not been updated since the member's induction).