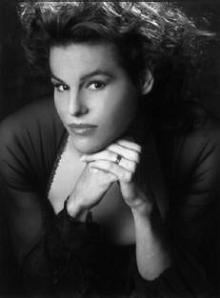 INDIVIDUAL | Inducted 2005
Besides acting, Alexandra Billings serves as an educator, mentor, advisor, fund-raiser, and role model, especially for teenagers who are LGBT. She is known for her performance achievements as an artist onstage and on television, her example as a person living with AIDS, her educational and fund-raising work to combat AIDS, and her work with About Face Youth Theatre.
Through her stellar example and candid communication while associated with HealthWorks Theatre, which is an educational theater aimed at young persons, Billings educated youth through performance and discussions about AIDS-related issues and the importance of living with AIDS.
In her 18 years of teaching, Billings has served as a Viewpoints associate at Steppenwolf Theatre Company's school and an artistic associate and teacher at About Face Theatre. She also serves on the board of directors for Season of Concern, the Chicago theater community's AIDS fund-raising group.
Billings was featured on the cover of the Advocate in 2000, appeared in a "Spotlight" segment of the "Entertainment Tonight" television series in 2000, and has been the subject of several articles in Poz magazine.
Her peers in the LGBT communities have recognized Billings as an unofficial spokesperson for the transgender community on AIDS and life issues. Unabashedly proud of her own identity, she has served as a positive role model for silent transgender young persons in Chicago and elsewhere.
Since age 5, Billings has been involved with theater. Her father was a musical director. In her late teens, she embraced her transgender identity and began her career as Shanté, eventually landing a job at Chicago's famous Baton Show Lounge, where she was a "Baton Girl" for almost five years.
In 1987, she starred in Charles Busch's "Vampire Lesbians of Sodom" during its Chicago premiere at the Royal George Theatre. She also starred in several dramatic and comedic shows, eventually persuading critics and the public to embrace her talent rather than question her sex.
Prompted by a suggestion of David Zak, artistic director of Bailiwick Repertory Theatre, Billings wrote and starred in her one-woman autobiographical piece, "Before I Disappear", in 1993. Revised four times and produced in Chicago, Boston, and New York, it offered a first-hand education to those living with HIV and AIDS. In late 1996, Billings crossed into "mainstream" theater by landing the pivotal role of Alejandra in Charles L. Mee's "Time To Burn", which ran in February and March 1997 at Steppenwolf. The production won a Jeff Award for best ensemble from the Joseph Jefferson Awards Committee.
Billings filmed her first television movie in 2003, ABC's "Romy and Michele: In the Beginning", which aired in February 2004. She recalls her role as being the first in which a transgender female played a transgender female character on television. Billings has also guest-starred in episodes of "ER" and "Karen Sisco".
She shares her life with Chrisanne and two cats. (Note: information has not been updated since the time of the member's induction).