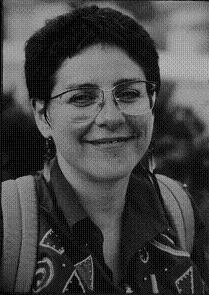 Photo by: Tracy Baim/Outline & Nightlines
INDIVIDUAL | Inducted 1995 [Now Deceased]
A psychotherapist and social worker, for many years Caryn Berman worked professionally and as a volunteer and political activist to improve Chicagoan's lives. She has focused on the health and civil rights of lesbians and gay men but has skillfully built coalitions and has been an influential HIV/AIDS educator and policymaker.
After receiving her M.A. degree in social service administration at the University of Chicago in 1980, she became a clinical social worker at Evanston Hospital. While there, Berman developed a groundbreaking sex-education program for persons with chronic mental illness, which was affirming of lesbian and gay lifestyles. After that, Berman had a part-time private psychotherapy practice, specializing in treating lesbians and gay men. In the early 1980s she volunteered her professional services as a therapist at Horizons Community Services and helped to organize several of the Horizons Identity Conferences, which were attended by hundreds of lesbians and gay men annually.
Berman's impact on the mental health of lesbians and gay men went far beyond her own clinical work. She taught courses on psychotherapy with gay and lesbian clients to both gay and non-gay students and practitioners in psychology and social work at the Illinois School of Professional Psychology and the University of Chicago School of Social Service Administration.
Motivated by the death of a friend in 1985, Berman began her influential career as an HIV/AIDS educator, policymaker, and service provider. She developed the PASSAGES project at Horizons Community Services, an educational support group for gay and bisexual men at risk for HIV infection. Working at Travelers and Immigrants Aid (TIA) at the time, Berman recognized that the risk for HIV/AIDS extended far outside the gay community. She developed education programs for TIA staff, allowing them to assess the risk of individuals in other vulnerable populations and to counsel them.
Berman organized the AIDS Foundation of Chicago along with Ron Sable, Renslow Sherer, and William Young and was also instrumental in founding the Hispanic AIDS Network. She worked with the Chicago Board of Health to develop protocols and public health policies on HIV/AIDS and was a curriculum reviewer for HIV/AIDS materials for the Chicago Board of Education and the Illinois State Medical Society.
As the Illinois program director of the Midwest AIDS Training and Education Center at the University of Illinois at Chicago, Berman developed and delivered training to more than 35,000 health care professionals. The curricula that she developed addressed homophobia and other cultural diversity issues while presenting up-to-date scientific and medical information about AIDS. Her commitment to social justice issues was profound as she has sought to improve life for lesbians and gay men in Chicago.