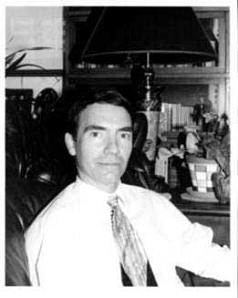 INDIVIDUAL | Inducted 1999
John Balester has been a leader in shaping the direction of the movement for sexual-minority rights in Chicago and Illinois for more than 20 years. Much of his advocacy has been in the political arena, primarily through the Illinois Gay and Lesbian Task Force (IGLTF) and the Chicago Commission on Human Relations' Advisory Council on Gay and Lesbian Issues (ACGLI).
As a new Illinois Gay Rights Task Force member in the late 1970s, Balester took over leadership of the group's efforts in behalf of a Chicago ordinance to prohibit sexual-orientation discrimination. Later, he was elected to two terms as the group's co-chairperson. During his tenure, IGLTF assumed its present name and moved its office from the Loop to the North Side's Lake View neighborhood in order to be closer to a large section of Chicago's organized gay and lesbian communities.
As IGLTF co-chairperson, Balester and his brother worked to create the group's logo, showing a map of Illinois breaking out of a pink triangle. A key success was creation of a working relationship with the office of then–Cook County State's Attorney Richard M. Daley, through which IGLTF was able to offer sensitivity training to prosecutors. Later, in collaboration with Horizons Community Services, such work was expanded to include the Chicago Police Department and the Federal Bureau of Investigation's Chicago office. Balester also took part in Springfield lobbying for a state law against sexual-orientation discrimination.
In 1990, Balester was appointed by Mayor Richard M. Daley to chair ACGLI, which had been created by Chicago's revised ordinance against sexual-orientation discrimination. Balester's initial goal was to heal any community rifts that resulted from ACGLI's supplanting the Committee on Gay and Lesbian Issues (COGLI), which had been established by Daley's predecessor, Mayor Harold Washington.
Balester also worked to improve liaison between city government and such organizations as Queer Nation and ACT-UP. While Balester chaired ACGLI, a gay and lesbian advisory committee in the Chicago Police Department was formed, and the Chicago Gay and Lesbian Hall of Fame was created.
In addition, Balester was involved as an openly gay man in electoral campaigns including those of Daley and of President Bill Clinton. Professionally, Balester is a psychologist and educational administrator. (Please note: this information has not been updated since the time of the member's induction).