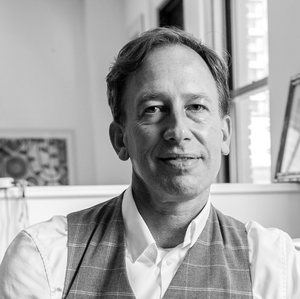 Photo by: Jennifer Greenburg
INDIVIDUAL | Inducted 2016
Tom Bachtell has made far-reaching and outstanding achievements in the world of illustration. He works primarily in brush and ink with a drawing style that harkens back to many of the classic American illustrators and cartoonists. Bachtell's distinctive drawings and caricatures appear weekly in The Talk of the Town and other sections of The New Yorker, where he has been a regular contributor for 20 years. His work can also be seen in many other publications, including Entertainment Weekly, Newsweek, Forbes, Bon Appétit, Town & Country, Mother Jones, New York, Poetry, the New York Times, the Wall Street Journal, the New York Observer, and London's Evening Standard. In addition, his ad-campaign clients range from Marshall Field to Lands' End to the chamber-music series at the University of Chicago.
Bachtell, who was trained as a pianist at the Cleveland Institute of Music and earned a liberal arts degree from Case Western Reserve University, is a self-taught artist. His portraits of Barack Obama have helped to shape the way he is perceived by the nation. In addition to his countless illustrations of celebrities and politicians, he illustrated Robert Trachtenberg's book, "When I Knew", a Lambda Literary Award finalist.
Exhibits of Bachtell's work have been shown at the offices of The New Yorker, the Cliff Dwellers Club in Chicago, the invitational exhibitions "Drawing the Candidates," at the New York Times, and "Politics '08" at the Society of Illustrators in Manhattan.
His illustrated talk, "How I Learned to Stop Complaining and Start Drawing Mariah Carey: My Life as a Cartoonist," was commissioned as a Marquis Lecture at Coe College, in Cedar Rapids, Iowa, and has also been delivered at the Arts Club of Chicago. (Note: information listed has not been updated since the member's induction).