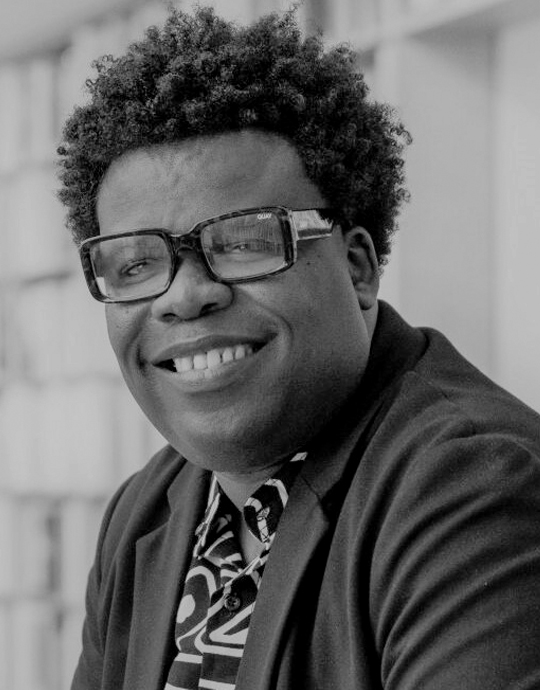 Individual | Inducted 2023
avery r. young is the first Chicago Poet Laureate. He is also an out gay Black male. He is an award-winning teaching artist who is an Arts and Public Life Artist-In-Residence at the University of Chicago. Avery has been instrumental in Chicago's poetry scene. As a past teaching artist for Young Chicago Authors and various other not-for-profits, he has left a legacy of mentees who call him big brother, uncle, and Pops.
His work has been commissioned by Red Clay Dance Company, Deeply Rooted Dance Company, and the Lyric Opera. His work on challenging stereotypes of Black masculinity (often using references from James Baldwin's critical essays and interviews) makes him a sought-after presenter and speaker at conferences.
avery was born on the west side of Chicago, and still feels "the west side is the best side." His long-standing commitment to Chicago's LGBTQ community stems back to the late 1990s and early 2000s, when he began working with various not-for-profit organizations around Chicago promoting arts literacy programs. He was a member of, and wrote several works for, A Real Read, Chicago's premier Black LGBT performance ensemble and a 2007 Chicago LGBT Hall of Fame inductee. He was appointed the chair of the men's committee and was responsible for curating Men on the Mic Night for Performers or Writers for Women on Women's Issues aka P.O.W.W.O.W. Inc. (inducted into the Hall of Fame in 2013). He was instrumental in co-curating the first LGBT Black Pride Poetry Slam and worked as a volunteer in the curation of south side and west side cultural activities for Gay Games VII (a 2007 Hall of Fame inductee).
avery r. young is the author of neck|bone: visual verses (a poetry collection), published by Northwestern University Press. In the book's foreword, Theaster Gates called him "one of our greatest living street poets . . . one of the most important thinkers on the Black experience."