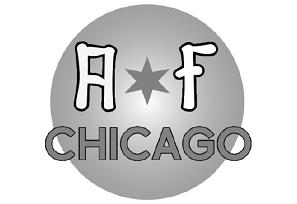 ORGANIZATION | Inducted 2010
At the end of August 2010, Asians & Friends – Chicago completed a year of events celebrating its 25th anniversary, including a black-tie fundraiser that collected $12,000 for a local AIDS-awareness charity and an orphanage run by Carmelite sisters in the Philippines, a "naked sushi" fundraiser with partly clothed male models as serving trays, and a "25 and Growing" plant-themed float in Chicago's 2010 Pride Parade.
Founded in 1984 in a time before Facebook—and even before e-mail, AFC provided an opportunity for gay men of Asian descent to engage in social interaction with the larger gay community more confidently. Today, as the group enters its second quarter-century, technology has advanced, yet a stigma attached to Asian men by many in the gay majority can still be palpable. As AFC puts it, "being minimized for the shape of one's eyes, accent, or physical form leads to animosity, distrust, and self-hate." AFC has worked to create a supportive social network, encouraging the embrace of heritage while directing both inner and outer negativity toward positive social experiences for gay men of Asian descent and their friends.
Today, AFC manages a 250-member database and hosts at least two gatherings a month averaging around 20 attendees each, with a Chinese New Year celebration topping 70 this year. Community service activities have included pass-the-hat collections at local gay bars to raise money for Thai tsunami victims, a bachelor auction that took in over $2,000 for AIDS-awareness education in Chicago public schools, and ongoing collaboration with Asian Human Services that includes outreach and HIV-risk reduction.
In 2006, AFC organized several social events for athletes participating in Gay Games VII. The organization has helped to inspire similarly named groups elsewhere and has hosted three International Friendship Weekends for more than 200 registrants from around the world, who came together to celebrate diversity and camaraderie while enjoying a safe, fun weekend among friends. AFC also organized a reception for George Takei, who appeared as Mr. Sulu on the "Star Trek" television series, when he served as grand marshal of Chicago's 2006 Pride Parade.
The group has organized cultural events, such as meals featuring Filipino, Thai, Chinese, and Vietnamese cuisines; viewings of David Henry Hwang's "M. Butterfly" and "Golden Child"; and mah-jongg nights in collaboration with the Wild Pug bar in Chicago's Uptown neighborhood. AFC has participated in several of the annual Pride Parades and has collaborated on events with Long Yang Club Chicago, West Suburban Gay Association, and Windy City Times.
Relatively few organizations get to celebrate their silver anniversaries. For more than 25 years, Asians and Friends Chicago has served the community by providing fellowship, entertainment, and a sense of belonging. (Note: information listed has not been updated since the organization's induction).