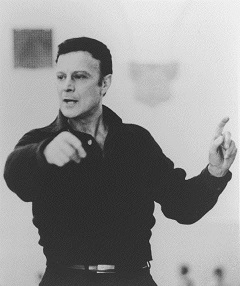 Photo by: Joffrey Ballet Chicago
INDIVIDUAL | Inducted 2014 [Posthumous]
As co-founder of the Joffrey Ballet in New York with Robert Joffrey in 1956, Gerald Arpino was the nationally known company's associate director for many years and, upon Joffrey's 1988 death, succeeded him as artistic director. In 1995, Arpino and the company moved to Chicago with the help of avid backers here. This year, as the company's 2014–15 season celebrates its 20th year as a major Chicago cultural institution, Arpino joins the Chicago Gay and Lesbian Hall of Fame.
A leading dancer with the company until a 1963 injury, Arpino choreographed his first Joffrey work, "Ropes", in 1961. In subsequent years, he created more than a third of the Joffrey's repertoire, ranging in theme from social commentary to pure dance. His works have been performed by other troupes worldwide.
He was the only choreographer to have had four ballets performed at the White House (the company was the first to perform there), and he was the first choreographer commissioned to create a ballet honoring the office of the presidency (on its 200th anniversary), "The Pantages and the Palace Present Two-a-Day," a frothy 1989 work. He was the first American commissioned to create a ballet for a city: "Jamboree", for San Antonio in 1985. In 1993, he produced America's first full-evening rock ballet, "Billboards", set to music of Prince. The company itself was the first ever to present a rock ballet: Arpino's "Trinity", which drew acclaim in 1970. In all, Arpino choreographed at least 49 works for the Joffrey Ballet.
Arpino served on numerous boards and councils, including the national advisory council of the USA International Ballet Competition and the board of the Dance Notation Bureau. He fulfilled advisory roles for the New York International Festival of the Arts and the Kennedy Center Honors. He was a member of the Chicago Academy for the Arts board. He held honorary doctorates from the College of Staten Island, the borough where he was born as Gennaro Peter Arpino in 1923; the City University of New York; and Staten Island's Wagner College, which he attended for one year before enlisting in the U.S. Coast Guard Reserve in 1942. He received the 1974 Dance Magazine award and the Vaslav Nijinsky Medal. The Chicago Tribune twice honored him as one of its "Chicagoans of the Year." He died in Chicago in 2008 at age 85.