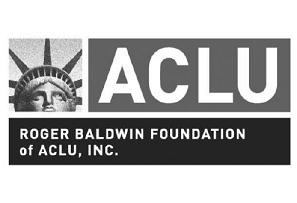 FRIEND OF THE COMMUNITY |  Inducted 2010
American Civil Liberties Union of Illinois has a proud Chicago lineage. The national ACLU was founded in 1920 by Roger Baldwin, along with prominent Chicago activists Jane Addams, Duncan McDonald, and Clarence Darrow. Six years later the Chicago Civil Liberties Committee, the forerunner of the ACLU of Illinois, opened its offices on Washington Street. The Illinois affiliate was formally incorporated into the national ACLU in 1946.
For several decades, the fight for LGBT rights has been an essential component of the ACLU's mission to advance equality and end discrimination. Few other organizations in Chicago can match the ACLU's long-term contributions to the quality of life of the city's LGBT communities. Through legislation and litigation on issues ranging from relationship recognition to workplace discrimination to birth certificates for transgender individuals and advocacy on behalf of LGBT youth, the ACLU has been an important friend and ally.
One ACLU case involving LGBT discrimination dates from the late 1980s, when it filed suit against the Northeastern Metropolitan Drug Enforcement Group as a result of a raid on Carol's Speakeasy, a popular Chicago gay bar. Police subjected bar patrons to physical and verbal harassment, detained them for an unreasonable amount of time, and forced them to provide private information and sign waiver-of-rights forms against their will for fear of physical harm.
At the onset of the AIDS epidemic in the early 1980s, the ACLU led efforts in Illinois to ensure that the epidemic would be treated as a public health crisis and not be seen as a reason to discriminate against gay men and others with HIV/AIDS. In 1984, ACLU staff served as primary authors of the Illinois AIDS Confidentiality Act, the first law in the United States expressly to protect the rights of individuals with HIV. Efforts to protect HIV/AIDS-affected individuals from unjust discrimination have proceeded throughout the intervening decades. One recent legislative victory is a change in state policy that bans discrimination against individuals with HIV/AIDS by hospitals, doctors, dentists, psychologists, social workers, colleges, and insurance companies.
The ACLU provides free legal advice or representation to hundreds of LGBT persons annually. In addition to legal advice, the organization actively engages in public education efforts aimed at informing members of Chicago's LGBT communities about their legal rights and the procedures for challenging discrimination. Through precedent-setting litigation, lobbying efforts, and legal advice and representation, the ACLU has proved itself to be a lasting friend to LGBT individuals and communities in Chicago and Illinois. (Note: information listed has not been updated since the organization's induction).