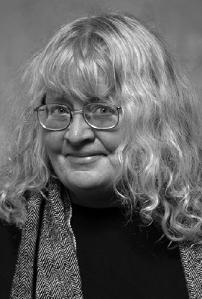 INDIVIDUAL | Inducted 2010
Claudia Allen is a prolific contemporary playwright. Almost half of her repertoire of produced plays focuses on lesbian relationships or incorporates lesbian or bisexual characters. Allen is playwright in residence at Chicago's Victory Gardens Theater, with which she has been affiliated for more than 20 years. Her plays have also been produced at other Chicago venues and in theaters across the United States. She described a recurring theme of her work as "people finally getting the nerve to do what they want."
Born in 1954, Allen grew up in Clare, Michigan. She moved to Chicago in 1979 after graduation from the University of Michigan and began to write. "I wrote lesbian-themed plays," she recalled, "because I wasn't seeing what I wanted to watch." Many of her plays were ahead of their time in theme, passion, and humor. "I started writing them thinking I was never going to make any money at them," she added, "but that they were important stories to tell. The directors and actresses in those early productions were also pioneers, because it was not many years ago that so many actors just wouldn't play lesbian and gay roles, out of fear."
Allen's most frequently produced lesbian play is "Hannah Free", which premièred at Chicago's Bailiwick Repertory in 1992. The story focuses on a complicated, lifelong lesbian relationship. She also wrote the screenplay for a feature film version of "Hannah Free", which cast the actress Sharon Gless in the title role.
"Movie Queens", "The Gays of Our Lives", "Raincheck", "Roomers", "Dutch Love", "A Gay Christmas Carol", and a musical comedy, "Xena Lives!", are among her other works. The famed actress Julie Harris starred in the 2001 première of "Fossils", a play about two 70-year-old women who meet at a bed-and-breakfast and fall in love, which was staged at Victory Gardens Theater. Several of Allen's lesbian themed plays have been published, as well as a novel version of the film "Hannah Free" (Bella Books, 2010).
In 1999, Allen was recognized as Best Playwright by Chicago magazine. She is the recipient of two Joseph Jefferson Awards and five Jeff nominations. She also received the Trailblazer Award from Bailiwick Repertory "for demonstrating excellence in playwriting and for moving lesbian plays from the theatrical fringe to the artistic center."
Claudia Allen's work has consistently and courageously depicted the complications, joys, and sorrows of lesbian lives. Her work has achieved national recognition and made a lasting contribution to the theater in Chicago and across the nation. (Note: information listed has not been updated since the member's induction).