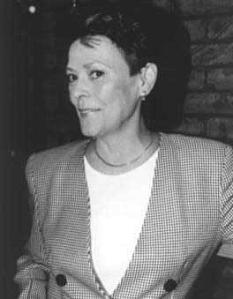 INDIVIDUAL | Inducted 1999
A longtime owner of the city's oldest lesbian bar, Lost & Found, Ava Allen maintained it as a home away from home for generations of lesbians and, through it, helped to raise thousands of dollars to fight cancer and meet women's health needs since the club opened in 1965. The business was founded by the late Shirley Christensen, herself a pioneer supporter of gay and lesbian activism in Chicago. Allen joined it in 1973 as Christensen's lover and business partner.
In the 1960s and 1970s, Allen and her partner resisted police harassment as well as enforcement of an ordinance that prohibited women and men from dressing in clothes that supposedly belonged to the opposite sex. Allen's bar has served as a starting point for generations of Chicago lesbians and is the oldest lesbian bar in the city.
In the years following Christensen's 1986 death from cancer, Allen helped to raise thousands of dollars for individuals and groups fighting the disease. Each year, her customers donated funds to the Lesbian Community Cancer Project through the Lost & Found's Adopt-an-Angel program.
At the bar, Allen sponsored several women's sports teams, and the Lost & Found serves as a "home" for many women of all ages. Allen oversaw a polite, congenial operation that fostered a relaxed social atmosphere for customers, some of whom drove in from distant suburbs to join their friends. It was once reported that Navy women posted to North Chicago's Great Lakes base had heard about the bar while stationed in the Philippines. Conversations abounded among diverse acquaintances new and old, ranging in age from their 20s to their senior years, all against a background of pool playing, not-too-loud jukebox music, and meticulous barkeeping.
Every December, Allen cut angel figures from construction paper, the bar's customers make donations, and each donor had her name inscribed on one of the angels. The hundreds of angel figures were then hung on display as holiday decorations. Beneficiaries of Lost & Found–generated funds have included not only the Lesbian Community Cancer Project but also individual women with health needs. (Please note: this information has not been updated since the time of the member's induction).