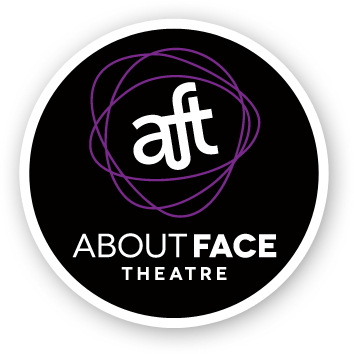 ORGANIZATION | Inducted 2003
Founded in 1995 by Eric Rosen and Kyle Hall, About Face Theatre has become a leading force in Chicago theater, an emerging national center for LGBT theater, and an important resource for education about LGBT issues in Chicago schools. Its Youth Theatre component is nationally recognized.
About Face Theatre is dedicated to the exploration of universal human experience through the lens of gender and sexuality. Through its commitments to artistic innovation, community transformation, and the cultivation of new voices, About Face seeks to challenge the intellects and imaginations of audiences within and beyond the LGBT communities in Chicago. Its productions are creative, substantial, and rewarding.
About Face has two programming arms: performance (through its award-winning Main Stage Season and its innovative New Works Program) and education (through its nationally recognized About Face Youth Theatre, which reaches more than 10,000 Illinois students and teachers each year).
Since 1999, About Face Youth Theatre has provided a forum for exploration and discussion of issues in the lives of LGBT and questioning youth and their young allies (LGBTQA youth). Its mission is to increase the safety, self-awareness, and leadership of such youth, their families, and their friends.
Its educational programs are designed to foster positive development for at-risk youth, to promote civic dialogue about LGBTQA youth issues, and to educate students and teachers about issues facing such youth in schools. The programs' goals are to reduce school and community violence and to foster safe, nurturing environments for all young people. With its main stage productions, About Face Youth Theatre has documented the changing perceptions of LGBTQA youth and has resonated with audiences of all ages.
The nationally acclaimed About Face Youth Theatre was recently one of five organizations in the United States to receive a major capacity-building grant from The Diana, Princes of Wales Memorial Fund (U.S.). The three-year grant commitment will be used to expand the youth theater programming to a national level. In 2000 the Youth Theatre received GLSEN Chicago's Pathfinder Award, and in 2001 the Youth Theatre was honored with Horizons Community Services' Human First Award. (Please note: this information has not been updated since the time of the member's induction).