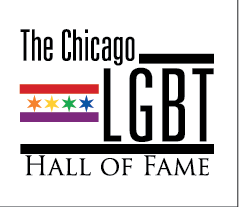 The Chicago LGBT Hall of Fame, celebrating its 30th anniversary this year, has announced the 2021 inductees, selected from a slate of candidates submitted by Chicago's LGBT community. The new inductees are as follows:
Posthumously inducted, the gentle, yet radical Ginni Clemmens was known worldwide as one of the earliest openly queer recording artists and was an important part of Chicago's folk music scene. In 1988, she relocated to Hawaii, where she died in 2003 at age 66, from injuries sustained in a car crash.

Lisa Cruz performed drag under the name Ginger Valdez. She began her work at Minority Outreach Intervention Project and soon became its first Latina transgender outreach worker. As a survivor, Lisa Cruz has become a major community advocate in defending the rights of the transgender community.

Thomas Hunt (aka Mz Ruff N Stuff) started working as a nightclub promoter and throwing loft parties and soon became a manager at Club House in the West Loop. He has has been entertaining in Chicago for over 20+ years.

Wayne Johnson defines himself as a special event jockey, habitat craftsman, metro chef, and urban explorer. As the winner of the Today Show's national "Domestic Diva" contest and a 10-year contributor for NBC-5 Chicago, Since his stint at NBC 5, Wayne has appeared on Good Morning America and Windy City Live sharing more of his food and lifestyle ideas.

Betty Lark Ross was a high school teacher of art, photography, and filmmaking at the Latin School of Chicago for nearly 40 years. In addition, she was a founding member and later co-chair for the Chicago chapter of Gay, Lesbian, and Straight Teachers' Network (later renamed listen GLSEN.)

Otis Mack, also known as "Chicago's Heavy Diva", does not take entertainment lightly. Comedian, promoter, host, and emcee extraordinaire, he is CEO and founder of Heavy Diva Productions and creator of the Chicago Warriors, a drag troupe. Mack balances a duo career as the founder of Heavy Diva and as a case aide at the Children's Home and Aid Society.

Dr. Claudia Mosier has been a member of Chicago's LGBT community for the last 43 years. Her advocacy began back in college, where she volunteered on the suicide hotline. She volunteered with the Lesbian Community Center which opened in 1979. In many different settings, from the early 1970s to the present, Claudia continues to advocate for the LGBT community.

DJ, producer, and Grammy nominee, Ralphi Rosario was a part of the Hot Mix 5 on WBMX, one of the leading forces in the early Chicago house music scene. Eventually, Ralphi expanded into music production and remixing. In 2012, he was nominated for a Grammy Award for the Rosabel Club Mix of the Rihanna track "Only Girl (In the World)."

Kirk Williamson has tirelessly devoted the last two decades to informing and entertaining Chicago's LGBT community through his work in the local queer press. His skilled eye is responsible for the clean look of many issues of both Windy City Times and its sister publication Night Spots and now he serves as production manager at The Chicago Reader.

In addition to recognizing the extraordinary achievements of individuals, the Chicago LGBT Hall of Fame also honored two LGBT organizations for their contributions to life in Chicago.

PRIDEChicago has managed and planned the annual Pride Parade for 47 years. PrideChicago, was headed up by Rich Pfeiffer, until his death in 2019, the reins have taken up by his partner and husband Tim Frye.

Urban Pride Chicago is a signature event that is projected to draw 5,000+ attendees for its yearlong agenda of social, educational, and cultural programs for adults, youth, families, and allies. Urban Pride Chicago Week was founded in 1991 It advocated safe spaces and programming for Chicago's African American LGBT community.

The Chicago LGBT Hall of Fame also posthumously honored an ally, as a "Friend of the Community".
Lana Hostetler co-founded, along with Kit Duffy, Jon-Henri Damski, Rick Garcia, and Art Johnston, the Illinois Federation for Human Rights, which later became Equality Illinois. In the early days of Illinois' and Chicago's second wave of LGBT civil rights work in the 1980s, her contributions to the community were immense and serve as a reminder that our history is replete with allies who marched alongside us. Tragically, Lana died in a house fire in 1999 and did not live to see the fruits of much of her labor.

This year's induction ceremony will be held on Oct. 6 for the inductees and their guests. A virtual ceremony will be webcast on October 28, 2021, at 6:30 p.m. in recognition of National LGBT History Month.