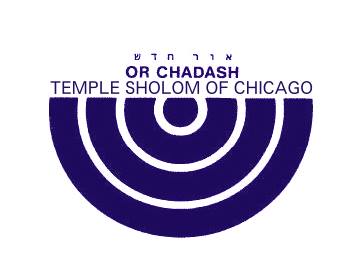 ORGANIZATION | Inducted 2006
In 1975, Congregation Or Chadash ("Congregation of New Light") was founded in response to the prejudice and invisibility that lesbian, gay, bisexual, and transgender (LGBT) Jews faced in mainstream synagogues.
For 31 years, Or Chadash has served Chicago's LGBT Jews—and their friends, families, and partners—by providing a home for their religious, social, cultural, and educational interests. This congregation spearheaded groundbreaking changes that allowed gay men and lesbians to be accepted in Jewish synagogues and institutions.  Through services, classes, community work, and other activities, Or Chadash has touched the lives of thousands of persons. Membership is open to everyone.
Today, Or Chadash exists to provide a warm and nurturing environment for all Jews, with special attention to the LGBT population. Its members come from all denominations of Jewish and non-Jewish backgrounds, and services tend to be a mix of Hebrew and English, with much music.The congregation, which is a member of the Union for Reform Judaism, uses an egalitarian liturgy. Women and men share equally in both religious and administrative duties. Typically, two Shabbat services per month are led by the male rabbi and the female cantor; the rest are led by congregants.
Other synagogues now embrace LGBT Jews, but they do not provide programming or activities that specifically cater to them. Or Chadash continues to offer its members educational programs and other activities that look at Judaism from an LGBT perspective. Or Chadash still serves as a safe space for single LGBT Jews to meet one another and, if they desire, to marry and start their own families.
Or Chadash has been a supporter of LGBT Jews in Chicago's Jewish community as well as the face of Jewish Chicago in the LGBT communities, bringing the two groups closer together. In addition, it is affiliated with the World Congress of Gay and Lesbian Jewish Organizations.