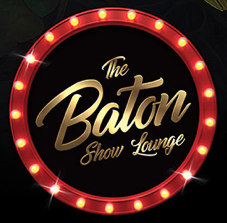 "Spring Fling" at The Baton on Thursday, April 13
Benefits The Chicago LGBT Hall of Fame
The Baton Show Lounge (4713 North Broadway, Chicago) has been entertaining folks for 53 years and will host a special "Spring Fling", an all-new show to benefit the Chicago LGBT of Fame on Thursday, April 13 from 7:30-9:30 (doors open at 6:30.) The evening of glamour and glitz will feature Baton performers Jackie Couture, Joan Jullian, Jordin Larue, Angel Saez, Toni Valentino, and special guest MC, and 2022 Chicago LGBT Hall of Fame inductee, "Chicago's Heavy Diva", Otis Mack. Join the Baton's beautiful, renowned entertainers for a special evening! Take pics in the photo booth with your Show Lounge favorite divas courtesy of Rick Aguilar Studios and win fabulous door prizes! Tickets for the event are $25 for general admission and $50 for VIP level. Call 312-644-5269 for tickets. Reservations and pre-sale are suggested as this show is expected to sell out quickly.
The Baton is the longest-running most prestigious show of its kind across the globe. Founded by Jim Flint, who still greets patrons at the door, The Baton has become famous across the globe for presenting the best in the art of female impersonation with its long-running review and a cast that carries on the tradition of being 'The Top of The Nation Revue".
The Chicago LGBT Hall of Fame is the first such organization launched by a city in the world. It honors the contributions and achievements of individuals, organizations, and allies of the community in the Chicago area The Chicago LGBT Hall of Fame is both a historic event and an exhibit. Through the Hall of Fame, residents of Chicago and the world are made aware of the contributions of Chicago's lesbian, gay, bisexual, and transgender community, and the community's efforts to eradicate homophobic bias and discrimination.
Friends of the Chicago LGBT of Fame is a not-for-profit Illinois corporation formed in 2009 to aid the Hall of Fame. It is recognized as a tax-exempt organization under section 501(c)(3) of the Internal Revenue Code. All contributions to it are tax-deductible to the maximum extent allowed by law. For more information about the Chicago LGBT Hall of Fame To learn more about the organization, visit the organization's website chicagolgbthalloffame.org/ or follow it on Facebook, Twitter, and Instagram.
#####